Hello pretties!
It's been months since I've been wearing the edgy color of MAC Fallen Angel Retro Matte Lipcolour on my lips. This is one of the four new Retro Matte Lipcolour shades (swatches / photos) launching later this month as part of MAC Make-up Art Cosmetics Collection (official info / photos). I have to admit that it took me a while to get comfortable wearing this color, because it looks so dark and mysterious on my lips…totally different that the sweetness of pink shades that I was used to. I was surprised to receive so many compliments right from the first time I wore this shade and I guess people who have seen me then thought I'd totally changed my makeup style. After more than two months of wearing this shade I can say that we've become close friends and I often reach for it and pair it with a light, casual and nude makeup look. I bet you've already seen my on Instagram wearing this shade, but keep on reading for the entire review and lip swatches.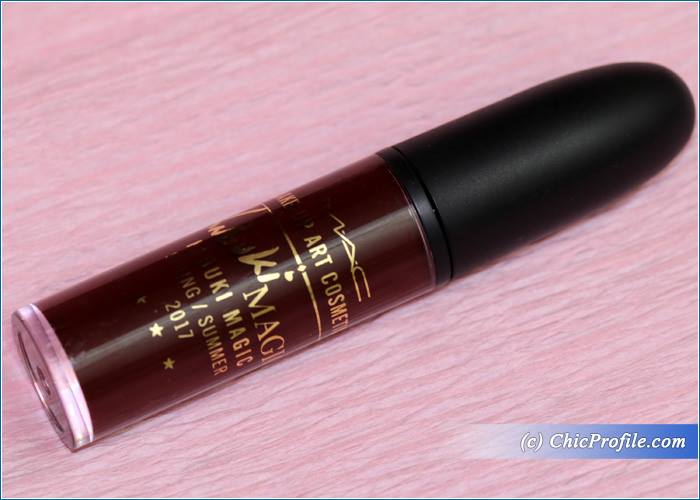 Availability
U.S. Launch Date – 19 January 2017 online @maccosmetics and select MAC Locations
MAC Fallen Angel Retro Matte Lipcolour ( $21.00 U.S. / $25.00 CAD) is officially described as a deep berry with a matte finish. I see it as dark wine berry with red undertones and a deep matte finish.
It's super pigmented, in just one swipe you can see the burst of color. At first I applied this color directly on my lips, on its own without any lip liner base so the effect was totally different. I later understood from a MUA friend that a texture like this should be applied only over a lip liner base, so when I tried it for the second time, the results were amazing….so much better and I just couldn't believe the huge difference.
When I applied this color for the first time, even though the formula glided easily across the lips, I couldn't helped being bother about the streakiness and uneven finish. I had to let it dry for a couple of seconds and then build up the color and add up to a third layer to make it look even. The second time I've applied this color, I made sure to fully color my lips with a lip liner (I used MAC Vino lip liner) just to ensure a base. The color applied much more evenly and easily and the effect was a rich, truly opaque color coverage.
The consistency is creamy but doesn't totally feel lightweight on my lips. It dries down quickly to a complete matte finish, but in time it will strongly emphasize lip lines. Even though I like a matte finish I'm just not comfortable with my lips looking dry and feeling that dryness throughout the wear. I do moisturize my lips before applying a matte liquid lipstick but still…I just can't loose that dryness sensation.
The color is quite long lasting, without me needing to worry about reapplying it throughout the day. It does transfer a bit on a glass or a cup, but it leaves enough colour on my lips after a meal that I don't necessarily need to reapply.
Sometimes on a different light, this color looks like a combination of deep plum and wine, looking very edgy and mysterious. I personally like the effect but I tend to keep my eye makeup as light as possible so I can create that striking difference and make this color pop. 🙂
Enjoy more photos…