Hello beauties!
Last week the upcoming MAC Autumn Winter 2015 Trends have finally been revealed. If the other day I gave you just a sneak peek of the entire event (photos, new fall 2015 products) today I'm back with more photos, details and even a couple of quick videos posted on Youtube. In the constant and evolving conversation of what defines beauty today, MAC Cosmetics has revealed its four new makeup trends: Beautiful and Damned, Love Worn, Red 70s and Strength of Beauty. I will share with you all the details about how to achieve each of these new MAC Fall Winter 2015 makeup trends and in the end I will tell you what is my favorite one.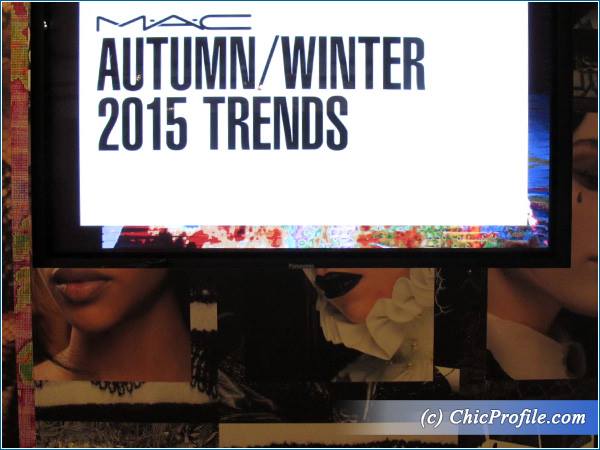 In the video I posted bellow but also on those that I shared with you on my Youtube Chanel you will see Alexandra Spyridopoulou, National Training Manager fro Greece and Balkans along with Netta Szekely, MAC Senior Artist giving us a demonstration, a step by step tutorial, on how to achieve each of these new makeup trends.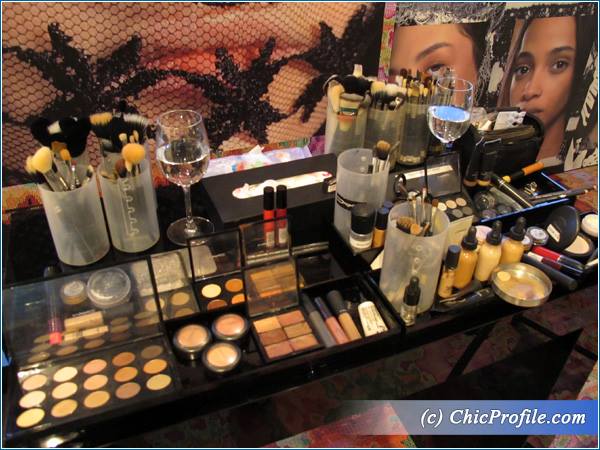 Beautiful and Damned
This trend is about the color black, a smouldery waterline, black lips for a dramatic effect which are lined with an elegant precision but also about the black liner. The secret is about the contrast. The entire MAC Beautiful and Damned trend is about diversity and intention behind these lines. The effect must be an effortless makeup look even though you can notice the precision on the lines. Black has always been the ultimate constant so this season makeup artists are exploring how to interpret the anarchic side of its spirit in the most beautiful ways.
The essentials:
Feline Kohl Power Eye Pencil – Blackest of black kohl formula
Black Chromaline – Pigmented and long-wear gel liner formula
Beg For It Into the Well Eye Shadow – Wet/dry carbon black shadow liner
Extreme Dimension 3D Black Lash – High volume, high definition carbon black mascara
Media Lipstick – Chic blackened red
Spiked Eye Brows – Universal charcoal brown eyebrow pencil
White Face and Body Foundation -Porcelain luminescence in the iconic Face and Body formula
Strength of Beauty
This trend is about the tension between the done and the undone, playing with nuanced
shades and subtle textures in a sparing way. Everything must be blended, without showing an evident texture while the first impression should be of fresh skin. This is actually my favorite MAC FW 2015 trend as the makeup looks more polished, the face is defined but without changing it, so that inner beauty sparkles from within. You can do a define brow, a pink blush, bronzer or mascara to sharpen your features.
The essentials:
Dark Golden Mineralize Skin Finish Natural – Universal honey-toned bronzer
Vintage Selection Pro Longwear Paint pot – A dewy, tea-stained cream shadow
Studio Sculpt DEFINING Powder – Soft focus, ultra lightweight gel-powder
Sweet Persuasion Huggable Glass – An elegant light pink, lip-plumping shine
M·A·C Studio Waterweight SPF 30/PA++ with Foundation – Akin to a second skin, luminously natural matte coverage
Clear Brow Set – The classic, instant brow grooming tool
Just a Wisp Mineralize Blush – For a fresh feminine flush
Love Worn
This is a trend that everyone will love as it takes classic makeup to the next level. A nuanced version of something that used to be quite done. Fresh skin is the key while the eye makeup tells the story of the woman who wears it. Last night's mascara, rubbed-off liner, creased kohl and nebulous shadow are the key components, technicality applied by "working through a makeup backwards," says Lyne Desnoyers. "It's about putting it on and taking it off until the perfect remnant remains."
The essentials:
Ebony Eye Pencil – A blendable, soft slate-black
Tailor Grey PRO LONGWEAR PAINT POT – Creates a natural, mink-grey smokiness
M·A·C Studio Conceal and Correct palette – The indispensable tool for the subtlest correction
Prep + Prime Lip – A smart, matte lip perfector
Mineralize Timecheck Lotion – The ultimate skin veil, for the smoothest canvas
Groundwork Pro Longwear Paint Pot – An invisible, but eye-brightening cream "real shadow"
Red 70s
This trend represents the reinvention of red lips in red brick, rusty red and new nuances of red. The classical red lip is not more trendy so we are talking about a little twist of red, a true crimson or rusty tones that are less obvious.
The essentials:
Caramel and Terracotta Prep + Prime – CC Colour Correcting SPF 30/PA++ Correctors used as shadows for rich 70's suede tones
Chili Lipstick – Sophisticated, timeless terracotta
High Drama M·A·C Retro Matte Liquid – A rich oxblood
Clear Lipglass – A shot of high vinyl in a tube
Dance with Me M·A·C Retro Matte Liquid – Classic cherry red
Uninterrupted Pro Longwear Eye Shadow – Bohemian mustard brown
Mahogany and Auburn Lip Pencils – For a precise sculpted lip, in classic russet tones
What is your favorite MAC makeup trend for the next season? 🙂
Enjoy the video (more MAC Autumn Winter 2015 Trends videos on Chicprofile Youtube Chanel) along with more photos