Hello beauties!
L.O.V. Cosmetics presents RAWmantic Spring 2017 Collection, its third limited edition collection since the brand was born. I recently had the pleasure of testing two L.O.V. lipsticks I purchased online and I was pleasantly surprised by the innovative and luxurious packaging. They had a magnetic closure that somehow made me associate them with Burberry lipsticks. 🙂 I really do hope that L.O.V. will expand to other countries in 2017 so we can all try out their products.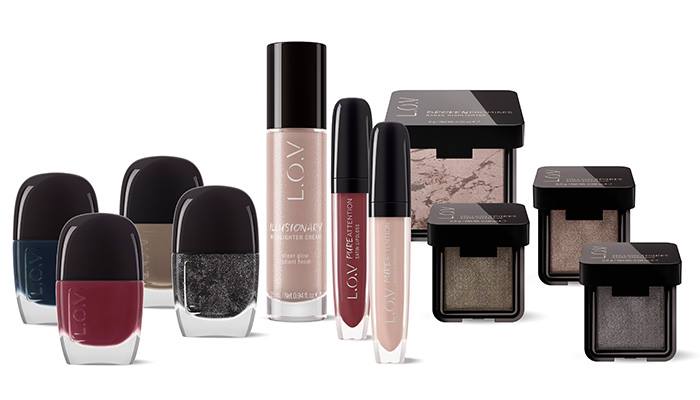 As naturally beautiful as an uncut diamond or as multifaceted as a gemstone. Pure and powerful on the one hand, delicate and romantic on the other – with "RAWmantic", the third Exclusive Collection, L.O.V is presenting nail polishes full of effects, multidimensional eyeshadows, soft lipglosses as well as two highlighters for an intensive look.
Availability
International Launch Date – from January to February 2017 in Stores and online @lov.eu (Germany, Switzerland, Austria, Croatia, Slovenia and Ireland)
LOV Spring 2017 Rawmantic Collection
Million Sparks Baked Eyeshadow – Limited Edition
Innovative, baked texture for especially long lasting results. Available in a total of three colors full of effects. Easy to apply and blend.
110 Green Seduction
120 Glamorous Granite
130 Sparkling Nude
Illusionary Highlighter Cream – Limited Edition
Shimmering highlighter cream for the face and body. Enriched with a delicate fragrance. Leaves the skin feeling silky and smooth.
Broken Promises Baked Highlighter – Limited Edition
The baked texture of the highlighter powder creates a soft shimmer. Can be blended perfectly using a blush brush.
Sandimentals Rough Nail Lacquer – Limited Edition
Granular micro particles provide the nails with a fascinating three-dimensional sand effect. Three nail polishes with a matte texture, the grey nail polish has a granite effect. Easy application thanks to the high-performance brush.
110 Blue Provocation
120 Infamous Granite
130 Champagne Glow
140 Seductive Red
Pure Attention Satin Lip Gloss – Limited Edition
Luxurious lip gloss with an especially supple texture for irresistible lips. In nude with soft shimmer pigments. In red with a matte effect.
110 Glistening Nude
120 Seductive Red
Enjoy more photos…