Hello lovelies!
Since I first had my first summer vacation in Ibiza about four years ago I promised myself that I will return and this year I was actually planning another Ibiza trip along with my best friend. Hearing about the new limited edition Laura Mercier Un Ete a Ibiza Summer 2015 Collection which is actually translated as a Summer in Ibiza, makes me feel even more restless and eager to find myself once again on that paradise island where people are always happy and party non stop. For me Ibiza was always about having fun, dancing in the clubs until morning and enjoying a Mediterranean tan on a sun bed in the afternoon so I was not really concerned with too much makeup. I wanted to spent as little time as possible in the mirror just because for me a summer vacation is not about a full face makeup so I always bring with me only the essentials. Seeing that Laura Mercier Summer in Ibiza collection features only a couple of products, makes it the perfect travel summer collection.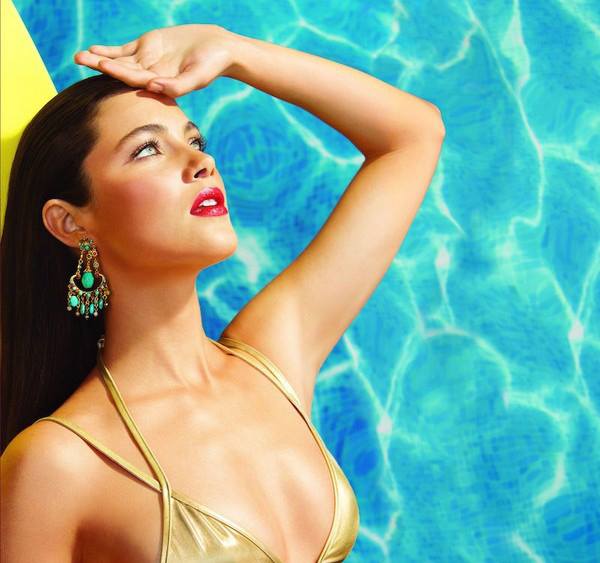 Calm, serenity, balance—let them surround you. The mood is quiet and relaxed. The look is effortless and discrete. Modern, veil-like shades of green merge with mauve, wheat and navy. Decorate the eye with these matte sateen watercolor-like finishes. The face is fresh with a flush of color to the cheeks and a soft, muted lip. Textures are refined for a mood that is discretely cool.
Availability
U.S. Launch Date – pre-order now at Neiman Marcus, Bloomingdale's | May 2015 at Laura Mercier counters
International Launch Date – May 2015 at Douglas, Karstadt and department stores
Laura Mercier Un Ete a Ibiza Summer 2015 Collection
Face Illuminator – New & Limited Edition – $42.00 / €40.00
A beautiful face illuminating hybrid product with a soft rose-gold shimmer perfect for highlighting. The unique formula based on high pearl levels provides buildable long-wearing color.
Indiscretion – soft golden pink
Baked Blush Bronze Compact – Permanent – $36.00 / €38.00
Ritual – warm bronze with a light pink tint
Bronzing Gel – Limited Edition – $32.00 / €38.00 for 1.7 oz
Laura Mercier Bronzing Gel blends quickly & easily while leaving the skin refreshed & hydrated. The sheer formulation enhances a tan, adds a warm glow & works for all skin types
Eye Glace – Limited Edition – $28.00 / €27.00
Shades:
Moonglaze – silver gray
Wet Sand – bronze
Blazing Sun – copper
Creme Smooth Lip Colour – Permanent – $27.00 / €29.00
Paint Wash Liquid Lip Colour – Limited Edition – $28.00 / €29.00
Extra Lash Sculpting Mascara – Permanent – $25.00 / €26.00
Shades:
Mega Moisturizer SPF 15, Normal/Combination Skin – $53.00 for 1.7 oz.
Enjoy more photos…