Hello beauties!
Laura Mercier has come up with this new Custom Contour Compact which features two contouring shades and one highlighter with a creamy formula. Presented in a black sleek palette it makes contouring and highlighting easier especially for those with dry or normal skin types which prefer creamy formulas.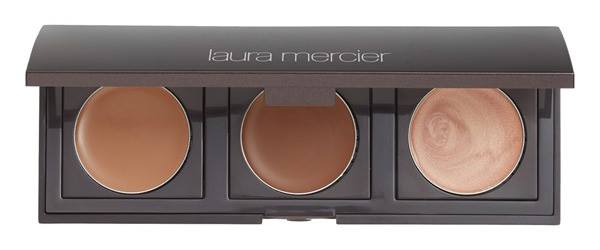 Availability
U.S. Launch Date – Now at Nordstrom and online @nordstrom.com
Laura Mercier Custom Contour Compact – New – $40.00
Commonly used in editorial photo shoots and in movies, contouring is a professional technique that works with lighting and shadows to recreate an illusion. It allows you to cheat by sculpting the face in key places to help shrink certain features and absorb light where needed. Laura Mercier Custom Contour Compact features a contour shade, a deep contour shade and a highlight color so you can contour, sculpt and bring out your best features. The highlighter is ideal for areas that need to come forward. The use of a neutral brown color absorbs the light and allows you to decrease volume in a non-obvious manner.
Compact includes:
Contour #1
Contour Deep #2
Highlight #1