Hello sweeties!
Lancome Spring 2017 Absolutely Rose Collection is just a few weeks away from the launch date and I couldn't be more anxious. I've posted so many times already about this collection and got my wish-list ready so I'm pretty sure that you already know how excited I'm about the new La Rose Parisian Powder (Instagram video) which is simply the most beautiful powder I've seen. The other makeup items as tempting as well as the entire collection was inspire the beauty and femininity of the sweet rose with its soft pink tones.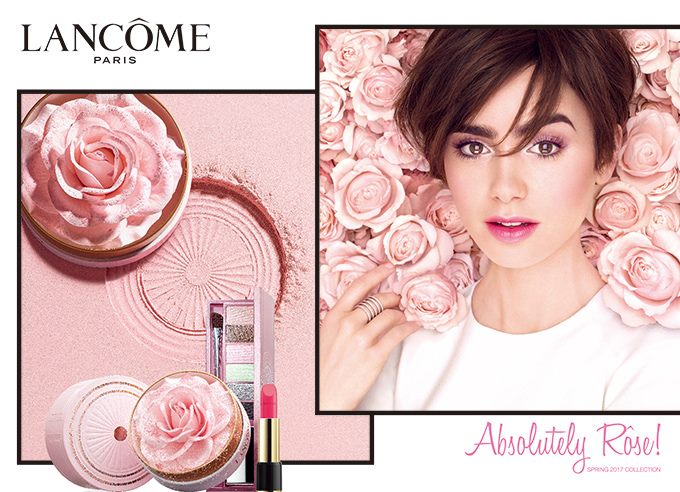 Availability
Japan Launch Date – 2 January 2017
U.S. Launch Date – January 2017
International Launch Date – February 2017
Lancome Spring 2017 Spring Rose Collection
Lancome La Rose Parisian Powder – New & Limited Edition – €65.00

This highlighting powder comes with a mini size kabuki brush in a rose vintage cardboard box. This one is definitely the star of this collection and a must-have item so I'm anxious to make it mine.
Cushion Blush Subtil – €39.50
00 Highlighter – highlighter
02 Rose Lemonade – gentle lilac-pink
024 Sparkling Famboise – hot shimmery pink
Lancome La Rose Palette – Limited Edition – €55.00
Includes 6 eye shadows in beige, pink and pistachio colors, plus an addition of two lipstick colors and one lip balm.
Le Crayon Miracle – €22.00
Perlmutt – mother of pearl
Ombre Hypnose Stylo – €24.00
20 Rose Lumiere – shimmering pink
21 Girs Ruban – ashy
22 Or Rose – shimmering pink and gold
23 Rose Pastel – gentle lilac-pink
Lancome Grandiose Liner – New Shades & Limited Edition – €22.00
04 Magenta – magenta
09 Boise de Rose – woody pink
Lancome Grandiose Mascara – Limited Edition
10 Bois de Rose – woody pink
Parisian Lips Le Stylo – €30.00
01 Bonjour Bonheur – red-pink
02 Rose Mon Amour – lilac-pink
03 Je M'Appelle Rose – pale lilac
04 Rendez-Vous a Paris – peach-coral
Juicy Shaker – New Shades & Limited Edition – €22.00
010 Snow-Tilly – sparkling snow-white
303 Cloudy Candy – shimmering pink and lilac
343 Top Gum – peach-pink
Enjoy more photos…