Hello beauties!
Here is a first look at the new Lancome My French Noel Holiday 2015 Palette that will be released this fall as part of Sephora exclusive holiday 2015 offerings. When I first looked at this new makeup palette I couldn't help finding the packaging and the arrangement of shades similar with the previous edition of Lancome My French Palette (info, photos) which was released as part of Lancome French Innocence Spring 2015 Collection.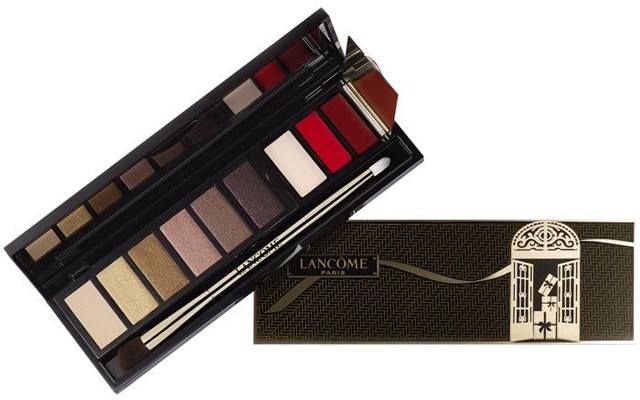 Availability
U.S. Launch Date – early October 2015 exclusively at Sephora
Lancome My French Noel Palette – New & Limited Edition – $65.00
Lancome My French Noel Holiday 2015 Palette features six eyeshadows in nude, earthy tones, two red lipstick shades and another white lip shade. I personally love a white lip color inside my lip palette as it can be mixed with the other shade to create ombre lips or to lighten the shade as much as you consider it fit to complement your complexion. The combination of the six Lancome holiday 2015 eyeshadows range from the lightest to darkest ones so it's a versatile palette that can be used to create both day or night time appropriate makeup looks not to mention a more special, festive makeup for the holiday season.
6 x 0.026 oz Eye shadow in Beige Matte, Gold Shimmer, Copper Shimmer, Gray Pink Shimmer, Mauve Pearl, Deep Purple Metallic
2 x 0.017 oz Matte lip colors in Cherry Red, Rich Burgundy
0.017 oz Lip base
Dual-ended brush
Lancome My French Noel Palette is the first item part of the upcoming Lancome Holiday 2015 Makeup Collection that is yet to be revealed. I'll keep you updated once I find out more.
In the meantime don't miss out on Lancome Anthony Vaccarello Fall 2015 Collection (info, photos) and Lancome Auda (City) in Paris Multi-Pan Eyeshadow Palette for Fall 2015 (info, photos) which will hit counters next week.