Hello babes!
Kinetics Rio Rio 2016 Summer Collection (promo images / info) was a released a while ago and since Kinetics is one of my favorite brands when it comes to nail polish, I could resist sharing it with you. I'm loving Kinetics even more since they came up with the new Solar Gel formula, which offers a beautiful glossy finish and a long lasting up to 10 days wear color. I bet you've already seen my video with live swatches for Kinetics Rio Rio Collection but just in case, I decided to show you some close-up photos and swatches until individual reviews will be ready.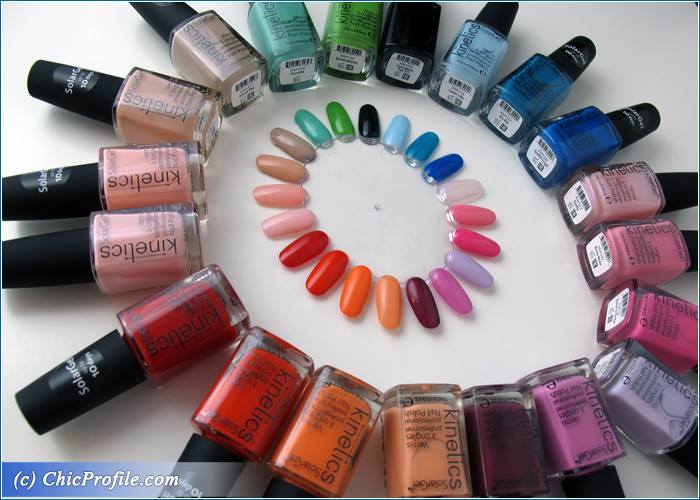 Where to buy:
Now @kineticsnails.com, @margaritabelska.com, @kiriloff.ro
The collection contains 12 new nail polishes ( €6.00/ 25.00 Lei/ £3.60 for 15 ml/ 0.5 fl oz) with a spectrum of colors which vary from light nudes and pinks to hot orange and red, but also colorful and vibrant greens, blues and purples. If you are not familiar with Kinetics nail products you should know that this is what their collections look like…I mean a lot of nail colors of different tones, so it will be impossible to resist and say that you haven't found a favorite.
I like to keep the light shades and nudes to wear right at the beginning of fall and now I'm focusing on those hot, vibrant colors like pinks, fuchsia, orange, grass green and aquatic blues.
The first color I choose to wear from this collection was Kinetics Dream High Solar Gel Nail Polish (review, swatches, before and after photos) followed by Lost In Copacabana and Rio Rio so expect those reviews by the end of this week.
The new Solar Gel formula is amazing….allowing a flawless application without pulling around the edges of the nail, or bubbling. The brush glides effortlessly across the nails without leaving any streaks behind and the formula is very well balanced.
Some of the colors offer an opaque color coverage right after the first coat while others tend like two coats for a rich color effect, but will also be those who were designed to look more easy on the eye and have a lighter and more natural coverage.
If you like any of color of the nail polishes bellow just post the name in the comments or write me via private message and I'll make sure to review it next.
Enjoy more photos…