Hello beauties!
A couple of weeks ago I enjoyed the view of Kinetics Polar Dream and Glitter Storm nail polishes on my nails for a few days. They are both new nail shades, part of Kinetics Penguin Galaxy Collection (info, swatches, photos) and they go perfectly together or even worn separately, depending on your preference. I choose to wear them differently and test them in two different ways. Check out bellow my full review and enjoy the close-up photos with before and after 5 days wear pictures.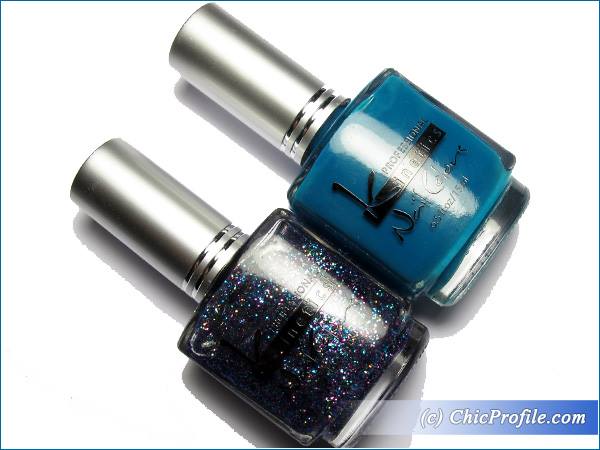 Availability
Now @kineticsnails.com, @margaritabelska.com, @kiriloff.ro
Kinetics Polar Dream nail polish (€6.00/ 25.00 Lei/ £3.60 for 15 ml/ 0.5 fl oz) is medium teal with cool undertones which leans more on the green side and has a natural shiny finish. It has a light creamy formula, a little bit thinner but not watery and it applies evenly across the nails. This is the kind of shade that will complement any skin color and nail length and even though it has been released as part of a winter nail polish collection it can also shine on a summer day.
The application went fine without bubbling, streaking or pulling along the edges of the nail. In one coat the polish looks almost opaque but it takes two coats for an intense and fully opaque color coverage. It has a nice natural glossy finish that can be intensified by a thin layer of top coat and in this case I used Kinetics Nano Shark Emergency Treatment for Damaged Nails (review, swatches, photos).
Kinetics Glitter Storm nail polish (€6.00/ 25.00 Lei/ £3.60 for 15 ml/ 0.5 fl oz) is a gorgeous multicolored glitter containing fine silver, teal, violet and pink particles. It has a jelly formula, that tends to be just a little sticky so it will take a bit of patience to apply the color evenly on your nails. It looks sheer in one coat and it takes up to three coats to build up an opaque color but in my opinion Glitter Storm will look better applied over other nail polishes or a white or black base.
I decided it to pair Kinetics Glitter Storm with Polar Dream nail polishes because they look so great together and also because I wanted to make that beautiful clean teal sparkle. So, on my left hand nails I applied two coats of the creamy Polar Dream nail lacquer and added a layer of Glitter Storm polish just on my ring finger followed afterwards by a thin coat of Kinetics Nano Shark Treatment which doubles also as a base coat.
On my right hand nails I've applied only a layer of Kinetics Polar Dream polish followed by a layer of Glitter Storm and without any top coat. After 5 days wear the results can be seen in the photos above but without the protection of a top coat the polish chipped considerably while on my left hand nails the polish looks pretty good with just very minor tip wear and only a chipped tip at my small finger.
Enjoy more photos…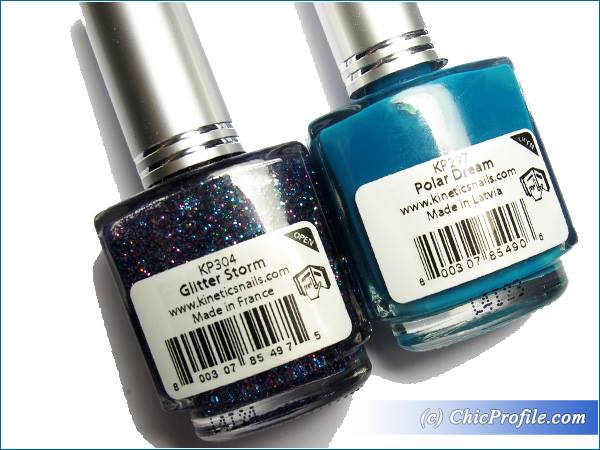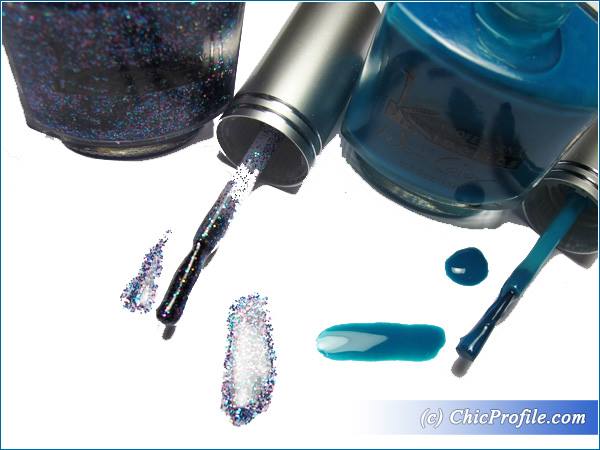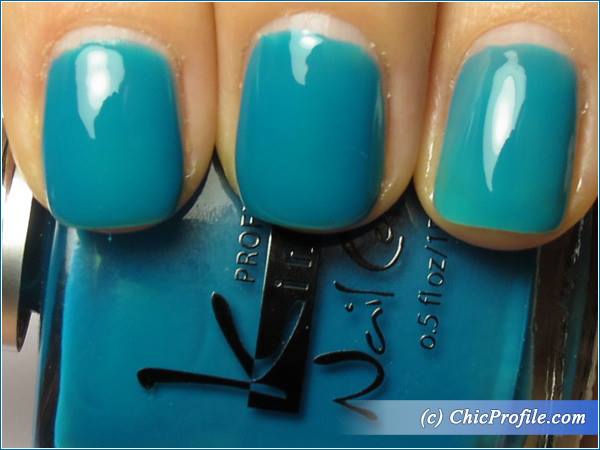 Kinetics Polar Dream Nail Polish Swatch – 1 coat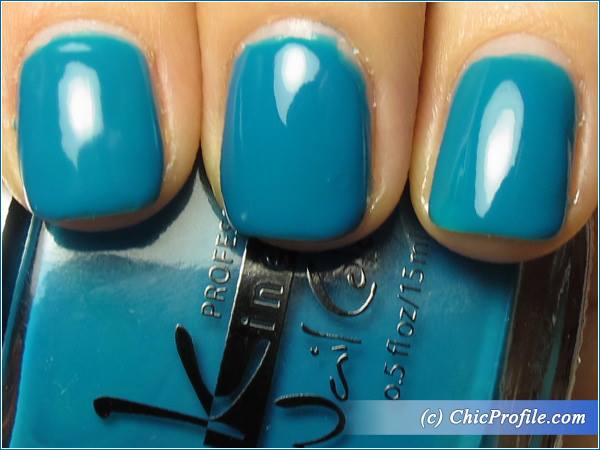 Kinetics Polar Dream Nail Polish Swatch – 2 coats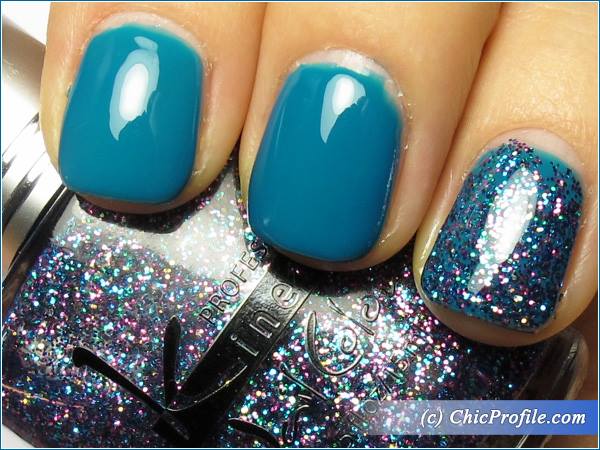 Kinetics Polar Dream and Glitter Storm Nail Polish Swatches – 2 coats (with top coat)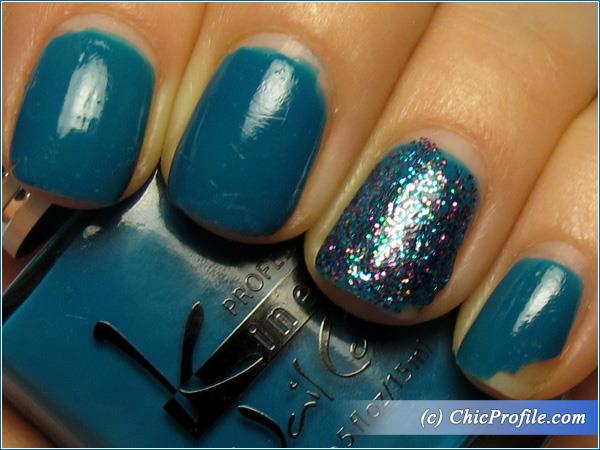 Kinetics Polar Dream and Glitter Storm Nail Polish Swatches – 2 coats (with top coat) (5 days later)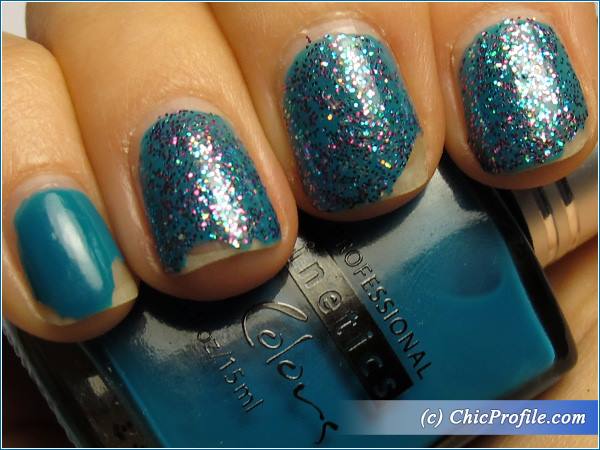 Kinetics Polar Dream and Glitter Storm Nail Polish Swatches – 2 coats (without top coat) (5 days later)