Hello pretties!
Last week, right before the weekend began, I was invited to spend an afternoon in the Urban Decay way, while discovering their new fall 2016 launches, along with the amazing 100 shades of Vice Lipsticks (info, photos). I've been spoiled by Urban Decay with a makeover realized by talented Stela Ciciu with whom I had a wonderful conversation about makeup and all beauty related stuff, while my hair was handled by the already famous Laurent Tourette. I bet you've already seen the result of my day in my Instagram video, but just in case you haven't go check it out and let me know what do you think. I was instantly addicted to the hot pink shade of Urban Decay Crush Vice Lipstick which I choose to wear on my lips that day and trust me when I tell you that it remained on my lips until nightfall when I had to remove my makeup. So I'm thinking I'm definitely getting this hottie shade by the end of the month and I'll be back to show it to you guys as well in an upcoming individual review.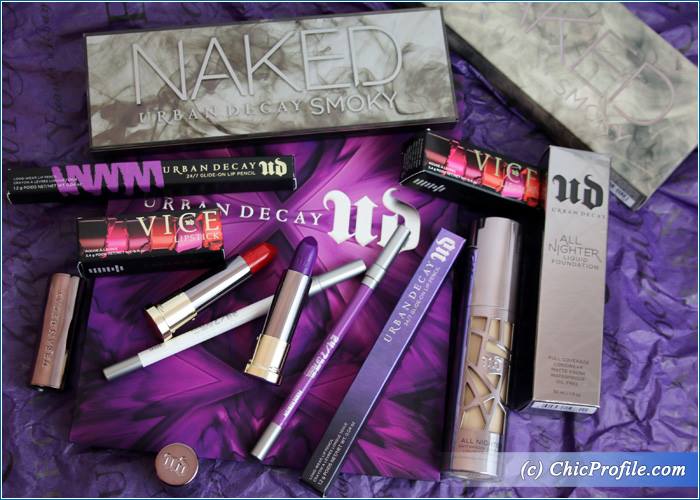 Where to buy:
U.S. & International – Now online @urbandecay.com, Sephora
Romania – Now exclusively at Sephora in Vitan, Baneasa, Promenada, Feeria, Afi Palace Cotroceni, Magheru
I've been expecting the launch of the new Urban Decay 100 Vice Lipstick shades for a while and I've become really impatient when I saw other countries getting them earlier that us, but the good thing after all is that I had swatches to see and reviews to read. There's a shade for any makeup junkie out there and you can choose between six finishes (mega matte, comfort matte, cream, metallized, sheer and sheer shimmer) so you will definitely spent some money especially if you are a lipstick junkie. 🙂
There are 14 new Lip Pencil shades and I got Ozone and Pandemonium with me to review later on. As far as the lipstick goes, I went to the extreme matte finish side with a classic bright red in 714 and bright purple in Pandemonium.
I tried the new Urban Decay All Nighter Liquid Foundation right then and there when I got the makeover and as much as I tend to stay away from full coverage foundations, I have to say this one was a real surprise to feel it so comfortable and lightweight on my skin. It has a matte, waterproof finish and trust me when I tell you that it lasted flawlessly and without a shiny until the end of the day. It didn't look cakey or overdone, just a high coverage with a comfortable feel. I would definitely give it a second try later this week, but when I go out at night, just to test the Urban Decay theory that this foundation is more suitable for "all-night affairs and other scandalous activities". In my mind this means it will last me the entire night when I go clubbing or party with my friends and in the morning I will still look perfect and with a mattified complexion even after I'd have danced the night away. 🙂 Can't wait to put it to the test.
Urban Decay Naked Smoky Palette it was actually the one missing from my Naked Palette collection so I'm so happy to complete the circle after all. Even though I know a lot has been said about this palette, I will post my review later this week as this one is a must-have palette, especially for those who like darker eyeshadows and are fans of a smoky eye makeup.
I feel so tempted so show you swatches of the items I got but I will resist it and give you all the details in my upcoming reviews. Keep your eyes on the blog! 🙂
Enjoy more photos…