Hello lovelies!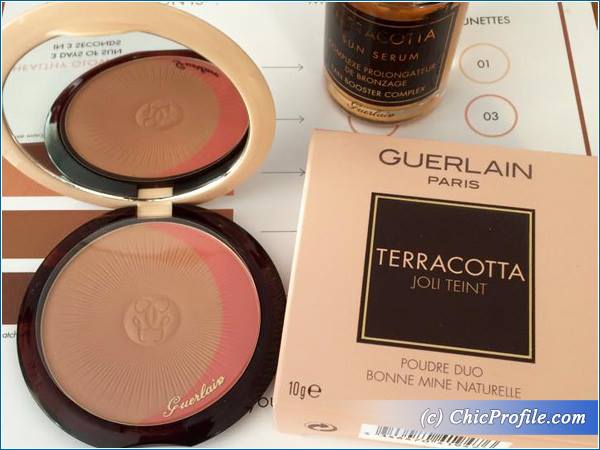 Earlier today I told you about the new Guerlain Terracotta Spring 2015 Collection (photos, color story) which launches in stores in a couple of weeks. Because today I got to see in the person the new Terracotta Joli Teint Powder Duo and Sun Serum I want to give you a quick preview before I will return with a detailed review in the upcoming days.
Availability
International Launch Date – March 2015
Romania Launch Date – 15 March 2015 at Sephora, Douglas, Marionnaud, Kendra
Guerlain Terracotta Joli Teint Natural Healthy Glow Powder Duo (243.00 Lei for 6 g/ 0.21 oz) is a new face powder duo, which follows the trend of last year released Guerlain Terracota Joli Teint Healthy Glow Foundation. Gorgeous looking, with an elegant packaging which is natural for Guerlain products, the new Joli Teint Powder Duo comes in a 4 new and permanent shades suitable for all skin tones. Now you can achieve the effect of 3 days of sun in just 3 seconds as this powder delicately warms up your face by adding a subtle touch of color and a healthy-glow effect.
Summer will not be here for at least a few good months so you can get that subtle, sun-kissed effect right when spring starts and look like you've already spent a weekend in the sun. If you pick the right shade for you then you won't have to worry about applying to much product. Guerlain Terracotta Joli Teint Powder Duo has a warm shades that works as a bronzer and can be lightly applied in circular motions using a Terracotta brush in circular motions starting from your forehead to the cheekbones and down to the chin, while the cool toned color, the apricot, pink or rosy will give you an instant fresh look when it's applied on the cheekbones.
If you are blonde you can choose between 00 Blondes Clair and 02 Blondes Naturel and if you have dark hair then your colors should be 01 Brunettes Clari and 03 Brunettes Naturel. My shades is #00 Blondes Clair as I'm not only a natural blonde but I also have a light complexion. I have my shade of Joli Teint Powder Duo right in front of me and besides its gorgeous pattern it also has a fresh floral scent that makes me dream of sunny days. Freesia and Orange Blossom are blended into tonka bean and vanilla notes which awaken the senses. I don't dare to swatch my new Joli Teint Powder Duo just yet as I want to look at it for a while but I won't be able to resist much longer.
Watch out for a review and a makeup look in the upcoming days as I also got a few products from Guerlain Les Tendres 2015 Spring Collection (swatches, photos, info) that I wan to try and review so this weekend will definitely be playing with these new Guerlain 2015 spring products.
The lovely partner of Joli Teint is the new Guerlain Sun Serum (279.00 Lei for 30 ml) which is a tan-boosting serum that can be easily mixed with your face cream (2 drops) and body cream (4 drops) to stimulate melanin production and get that beautiful sun caress skin after a few applications. Now you can have a lasting glow complexion, day after day as tanning has never been this easy.
Enjoy more photos…