Hello beauties!
In 2017 Guerlain celebrates Meteorites 30th anniversary and will release Happy Glow Collection, a capsule makeup collection as tribute. The famous Guerlain Meteorites pearls are celebrated in rosy, limited edition Happy Birthday collection along with three other products that you've already seen in a previous sneak peek along with lipstick swatches. Don't forget about the upcoming Guerlain Spring 2017 La Petite Robe Noire Collection with that scented Mascara and Lip & Cheek Stain rosy color.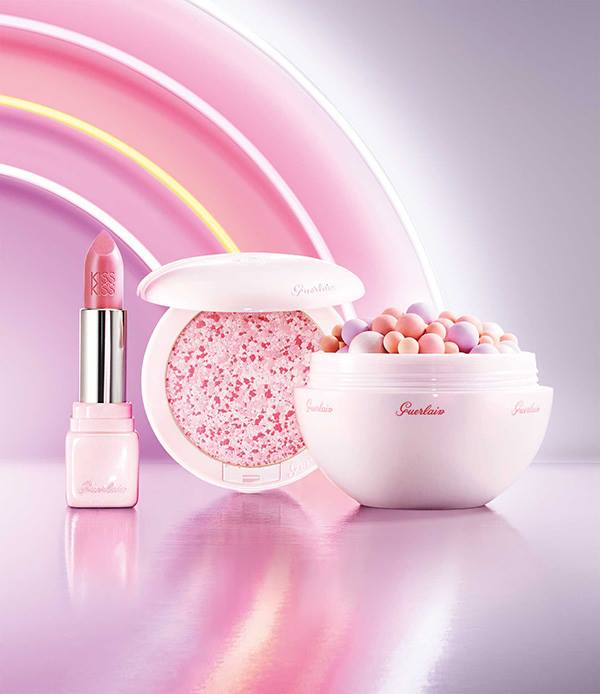 Availability
U.S. Launch Date – beginning January 2017
Romania Launch Date – 15 January 2017
Guerlain Spring 2017 Happy Glow Collection
Guerlain Meteorites Happy Glow – Limited Edition – €77.00
The new Guerlain Meteorites Happy Glow feature a combination of corrective and brightening pearls that are meant to erase the signs of fatigue and restore your natural glow. Rainbow Glow pearls amplify light with multicolored pearl particles while Champagne pearls reflect the light, Purple neutralizes yellow and attracts the light while Pink gives a fresh look to your skin and revitalizes a dull complexion.
Guerlain Meteorites Voyage Palette – Limited Edition – €55.00
This gorgeous palette is a 2-in-1 product that works both as a blush and as a highlighter. It features Rainbow Glow pearls, Pink and Fuchsia which will revive dull skin, add radiance and luminosity to your skin.
Kiss Kiss Shaping Creamy Lip Colour – Limited Edition – €41.00
Blossom Glow – pinkish red
Pearly Pink – soft glossy pink
Meteorites Brush – New Version
Guerlain releases a new and improved version of Meteorites brush. This one has even softer bristles and its stronger at the same time.
Enjoy more photos…