Hello beauties!
Today I'm back with a new review for one of the six Rose Aux Joues shades presented in Guerlain Bloom of Rose Fall 2015 Collection (info, photos). I dare to say that Guerlain #06 Pink Me Up Blush is probably the most pigmented and intense shade from all the other six and you can check out my previous review of Guerlain Morning Rose Blush (swatches, photos) if you are looking for just a soft hue on your cheeks.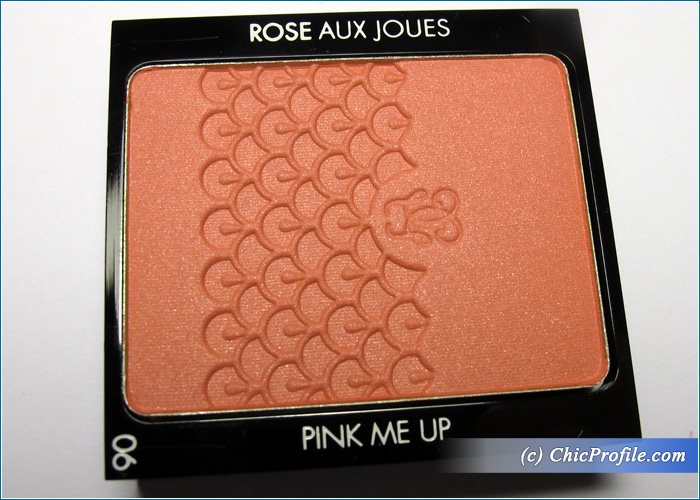 Availability
Romania – Now at Sephora, Douglas, Marionnaud, Kendra
U.S. – Now at Nordstrom, Sephora, Macy's, Neiman Marcus
U.K. – Now at Selfridges, House of Fraser, Harrods
Guerlain Pink Me Up Rose Aux Joues Blush ($52.00 / 232.00 Lei for 6.5 g / 0.22 oz.) is officially described as a punchy pink. I see it as medium warm pinkish coral with fine gold particles and a pearl finish.
The formula of Guerlain Rose aux Joues has been revamped this season so you'll get a light veil of color in the beginning if you apply just one layer and then you can easily intensify the blush color if you feel like it. Nonetheless the color will be subtle, feminine and will give you that fresh appearance. You just have to carefully choose the right shade for you skin tone so Guerlain Pink Me Up Rose Aux Joues Blush would be recommended mostly for those with medium and darker skin tones, but if you'll apply it with a light hand and just in one layer even light skin tones like me could make it wearable. I wouldn't see it though on someone with fair skin.
It delivered a medium to semi-opaque color payoff if you take the time to build up the color. I personally consider 2-3 layers being too much for my light skin tone so medium, olive and darker skins will definitely appreciate how easily it is to intensify this shade if you like.
The texture is smooth and soft but I still felt it a little bit dusty even though when applied it look beautiful, without emphasizing my pores (great for anyone with combination or oily skin type), not too much shimmer and shine, just a soft natural gorgeous glow. I had 8 hours wear with this formula.
I got three of the six new blushes to try out so the next color coming up for review is Guerlain #03 Peach Party Blush.
Enjoy more photos…