Hello beauties!
Pure luxury and perfection are two words that can honestly describe the new Guerlain Parure Gold Compact Foundation SPF 15 which was released at the beginning of this fall along with Guerlain Parure Gold Fluid Foundation SPF 30 (review, swatches, photos). Guerlain improved the formula of its famous Parure Gold and came up with these two new foundations which offers a rejuvenating effect. Read more about Guerlain Parure Gold Fall 2015 Collection and enjoy the promo images. It's been over a month since I got this product and probably you've already seen my preview video of Guerlain Parure Gold Compact Foundation on Youtube so I'm honestly telling you that I've reached out for this foundation at least 3 times a week. I'm not fond of compact foundations, and is not because I have something against its formula because I'm a combination skin type and these are usually the foundations I should reach out for, but I like to use my fingers when applying a foundation and that's why I prefer a liquid formula. My entire foundation routine changed when I first applied Guerlain Parure Gold Gold Radiance Powder Foundation.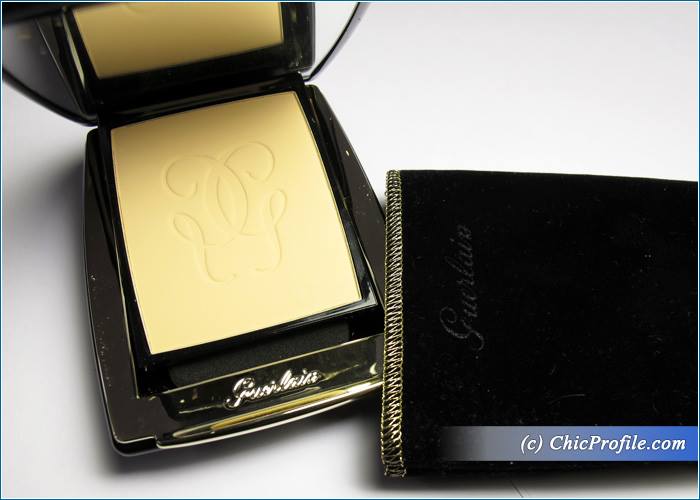 Availability
Now at Sephora, Douglas, Kendra and online @guerlain.com
Guerlain Parure Gold Radiance Powder Foundation SPF 15 (£56.00 / 397.00 Lei for 10 g/ 0.35 oz) is available in 8 shades and I got the lightest shade #00 Beige which is Asia Exclusive from what I've heard. I have a light skin tone and this shade is a good match for me since I haven't got any tan this summer but otherwise I would definitely have chosen #01 Beige Pale.
It comes in this super elegant and luxurious luscious black case and when you open it up like I showed you in this video you'll see how easily it glides. Underneath the refillable powder case you'll find a black rectangular sponge to help you apply the foundation. I was really skeptical at the beginning about this type of application, I admit, but once I started blending the product from the wings of the nose to the outside of my face, everything seemed so easy and I was instantly sold to this product.
Guerlain Parure Gold compact foundation contains dual-faceted pigments combined with a collagen-boosting active ingredient that bathes your face in a rejuvenating light. It has a formula that I would describe it to be somewhere in the middle between a foundation and a pressed powder. It feels incredibly soft and silky to the touch and lightweight on the skin, like I wouldn't even feel that I'm wearing any foundation at all. I feel it so comfortable on my skin, it glides-on gently when it's applied and blends effortlessly while embracing my skin with a touch of light, freshness and evens out my skin tones.
It has a this soft matte finish which makes me look very natural. My skin looks smooth and even, it doesn't emphasizes lines and it gives this amazing illuminated and glowing effect.
I would say that due to its expensive price I would tend to wear this foundation only on special occasions but you know what?….I can't help using it at least 3 times a week because it's so addictive. I want to have that ultra-natural, effortlessly fresh and even looking complexion every day, not only on special occasions, not to mention that it diminishes the signs of time and fatigue, so when I had only a few hours of sleep I definitely need Guerlain Parure Gold compact foundation to be there for me and make me forget that I didn't have a good night sleep, in one swipe. I know even if the formula is absolutely amazing and this is a high-end quality makeup product, the price will drive some people crazy, but luckily the powder case is refillable so you need only to invest once in purchasing the Guerlain compact foundation and after that you can just buy the refill.
The packaging is very luxurious, exquisite and makes it easy to carry around in your purse as the compact comes a black velvet pouch. You can quickly use it to touch up your make-up at any time.
I like to wear it on its on without applying a powder on top of it, because it gives such an impeccable matte natural finish, but I did wear it a couple of times with a very thin layer of loose powder and it behaved flawlessly. You can use it also as a pressed powder by applying it with a brush all over the face and you'll get an even more velvety result.
It has a long-lasting formula that stays put without showing any signs of fading from morning till evening. My complexion which usually starts to shine after 3 hours, in this case it looks impeccable for about 7 hours and then it shows only just a bit of a shine on my T-zone and later on after 10 hours my entire complexion just starts to glow but I'm not talking about extreme shine, about that oiliness which combination and oily skin types usually experience with other foundations. I was really impressed to see that Guerlain Parure Gold Compaction Foundation SPF 15 was the only one so far that could keep my skin looking mattafied and natural for 7 hours.
After more than one month of using it you can see in this latest Youtube video how much product I have left and I'm sure it will last me at least 4 more months but I'll be updating this article in the future when I'll hit the pan on my Guerlain foundation. 🙂
Makeup Looks and tutorial with me wearing this foundation will soon follow but in the meantime you can take a look at my Guerlain Parure Gold Makeup where I'm wearing the liquid formula of this product. 🙂
Enjoy more photos…