Hello beauties!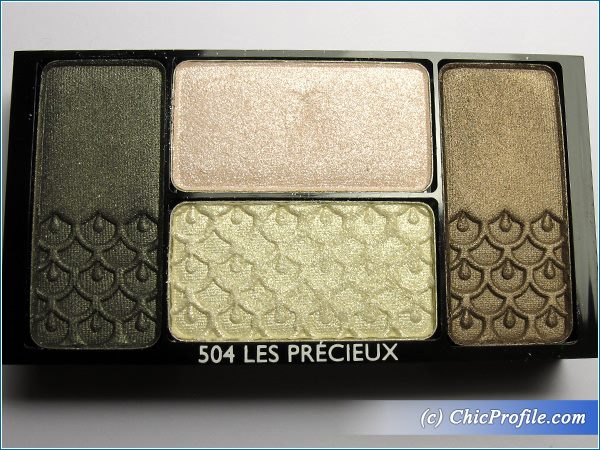 Guerlain Les Precieux Eyeshadow Quad is one of the two new limited edition eyeshadow palettes features in Guerlain Les Tendres Collection 2015 Spring (swatches, photos) which is already available in stores. Earlier this week I received this product as a tester for review purposes only so I had a couple of days to play with the shades, swatch them and also create two makeup looks that I'll be posting later on.
Availability
U.S. – now at Nordstrom and department stores
International/ Romania – now at Sephora, Douglas, Marionnaud
Guerlain Les Precieux Eyeshadow Quad ($65.00/ 284.00 Lei for 0.25 oz.) features four new shades, two more pigmented and dark and another two that look very light on the eye. I'm not quite fond of the new color combination of this Guerlain eyeshadow quad but I do like the sparkle and frost finish some of the shades have. The eyeshadow apply with ease but there's something about their formula which felt a little bit dryer and powdery and the lightest shades had a bit of fall out. All the shades were quite well for about six to seven hours but after that I notice how they loose their intensity and started to fade.Les Precieux No.1 is a medium-dark warm toned khaki with very fine gold shimmer and a frosted sheen. I had expectations that this will definitely be the darkest and most pigmented but it still didn't deliver that true intense and opaque color. The formula felt a bit dry, powdery and even though it applied well and blended easily, the color seemed to loose its intensity a bit too quick while blending. Without an eyeshadow primer applied this shade looks quite sheer.
Les Precieux No.2 is a very light white pink with warm undertones and a frosted finish. It had the same dry texture, that applied easily but had a bit of fall out as it didn't adhere quite well to the skin. It had a semi-sheer color coverage but with an intense frosty sheen that can brighten the eyes instantly or can be used on the brow bone.
Les Precieux No.3 is the lightest color of all and is a pale vanilla with white sparkle and the same frosted sheen. The color has a semi-opaque coverage while the formula was somehow a bit powdery. Without an eyeshadow primer this shade won't deliver more than a sheer sparkle.
Les Precieux No.4 is a medium warm brown with very fine gold shimmer and a frosted finish. This is probably the best quality eyeshadow of the quad as it has a good color payoff and it applied better than all the other shades. The texture was also the best, buttery without any sign of dryness or powdery to it. It blended easily and adhere well to the skin while it showed a rich pigmentation.
I've done a makeup look using this quad and I will posting it tomorrow.
Enjoy more photos…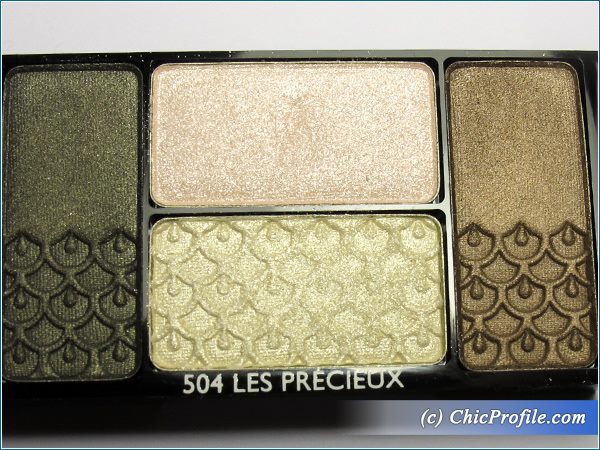 Guerlain Les Precieux Eyeshadow Quad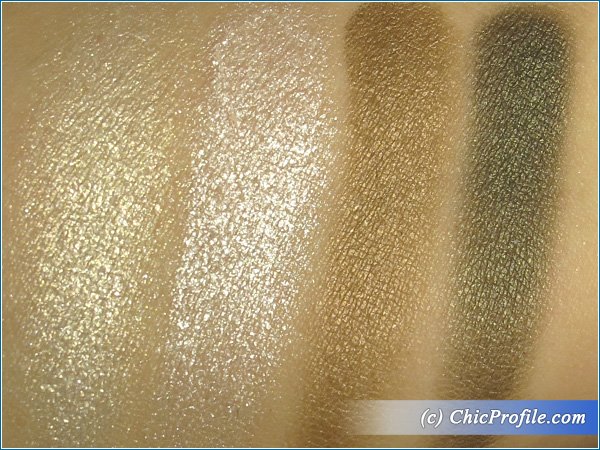 Guerlain Les Precieux Eyeshadow Quad Swatches (under tungsten light)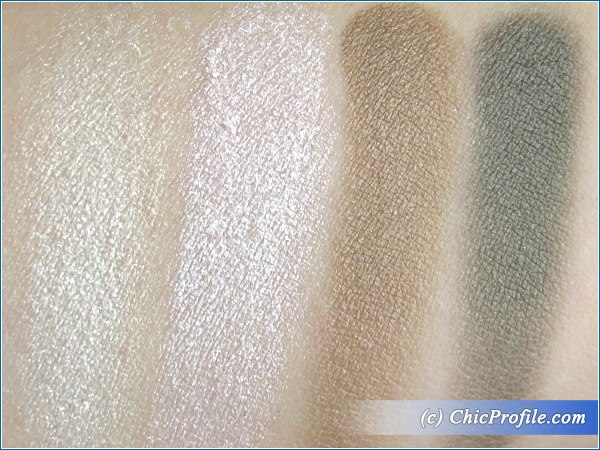 Guerlain Les Precieux Eyeshadow Quad Swatches (under fluorescent light)