Hello beauties!
New Guerlain La Petite Robe Noire Lipstick (swatches, photos) colors are coming your way. I'm back with four more shades to review, this time it's all about the transition from pink to purple. The entire Guerlain La Petite Robe Noire Lipstick collection features 20 permanent shades and I already reviewed 8 of them, but as promised I'll cover the entire line because these new lippies are awesome. I'm already in love with several shades and I'll be buying them next week, as you can see now that what I'm reviewing are testers. You can take a look here at live swatches in one of my latest Youtube videos.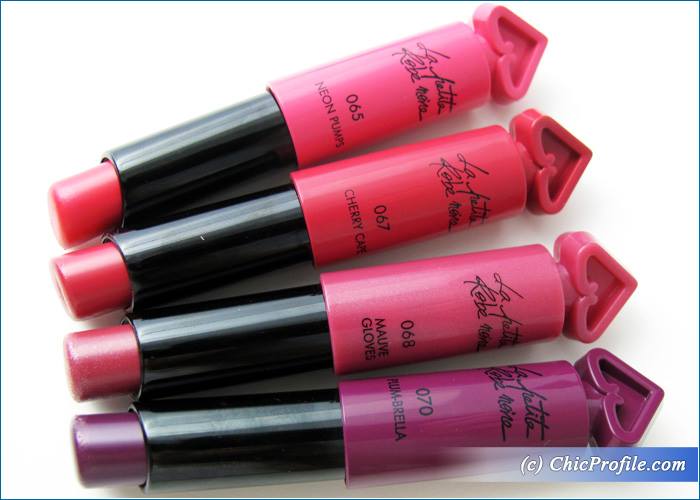 Where to buy:
Romania – Now at Sephora, Douglas
UK – Now at House of Fraser
Europe – February at Sephora, Douglas
Guerlain La Petite Robe Noire Lipsticks (145.00 Lei / £21.50 / €29.50 for 2.8 g / 0.09 oz) have this floral fruity formula with a sweet taste to it. It also contains fine oils which ensure nourishment and hydration so you'll never feel your lips dry or any discomfort.
I said it before and I'm going to say it again for these shades as well. They are all buildable from a sheer coverage up to a light opacity, it's purely up to you how you want to wear them. During the day I'm personally OK with one or two layers for a more natural color, just a tint of pink or purple is enough for me, but for an evening makeup look where I want a more intense color coverage I like to layer the colors several times. Not all Guerlain La Petite Robe Noire Lipsticks can deliver an opaque color coverage, some of them remain somewhere between medium-opaque, while others tend to leave a stain on the lips. I must say it was a pleasure doing lip swatches this time, as my lips never felt uncomfortable, on the contrary all the lip colors glided on smoothly and easily.
Guerlain La Petite Robe Noire (067) Cherry Cape Lipstick is a medium cherry pink with a natural sheen and no shimmer. The color looks very sheer in one coat, but easily buildable in several layers to almost an opaque color coverage. The shiny finish makes lips appear fresh, plumped and so seductive. It feels amazing on the lips, very lightweight and moisturizing. I had about six hours wear with this formula without feeling my lips dry in the end. It left a even stain behind which latest on my lips for 2 more hours.
Guerlain La Petite Robe Noire (068) Mauve Gloves Lipstick is a mauvy-pink with cool undertones and subtle silver shimmer with a satin finish. The color and finish give such a luminosity to the lips and makes them appear plumped, fresh and fuller. A gorgeous seductive and deep shade that will be very appropriate to be worn on the second part of the day. It will look great on almost every skin tone, from the lightest to darkest. It delivers quite a good pigmentation, being one of the richest colors of this collection. It has the same hydrating formula and glides effortlessly across the lips. I had about six hours and a half with this formula and when the color wore away it left almost no stain but a visible amount of shimmer which latest for about 2 more hours and made my lips so sparkling-looking.
Guerlain La Petite Robe Noire (065) Neon Plumps Lipstick is a bright pink with cool undertones and very fine silver sparkle and a glossy finish. Those tiny silver shimmering particles gives lips that natural fresh luminosity and makes this color one of my favorites for a girly but seductive and innocent look. The color is sheer when applied in one layer but easily buildable up to an almost opaque color payoff on the lips. It definitely changes your natural lip color as you can see from the lip swatches bellow and it caresses your lips with a moisturizing veil. Just like the others it feels very lightweight and comfortable, without drying out the lips. After six hours wear the color stained my lips with a soft pink hue.
Guerlain La Petite Robe Noire (070) Plum-Brella Lipstick is definitely one of the darkest shades of this collection, being a dark eggplant shade with a cool undertones and a shiny finish (no shimmer). The color is very transparent in one layer and buildable up to a medium opacity. I believe because this is such a dark shade it doesn't deliver such an even color when applied and tends to look a bit patchy. It's still a gorgeous color nonetheless so maybe you want to apply a lip color base before applying Plum-Brella Lipstick. I tried to wear the color right from the tube but also applied after I lined my lips with a plumy lip pencil and it looked better. I had about six hours and a half wear with this formula and my lips felt smooth and moisturized from beginning to end. When the color wore away it left a stain on my lips.
Enjoy more photos…