Hello beauties!
Last week I showed you all the swatches of Guerlain La Petite Robe Noire Lipsticks (preview, photos) and I promised to review each shade so today I'm back with the nude color range. These three lippies are absolutely gorgeous, perfect nudes for a casual look, but if you are looking for a different spectrum of colors check out my latest swatch video of Guerlain Delicious Lipsticks in pinks, corals and violet shades.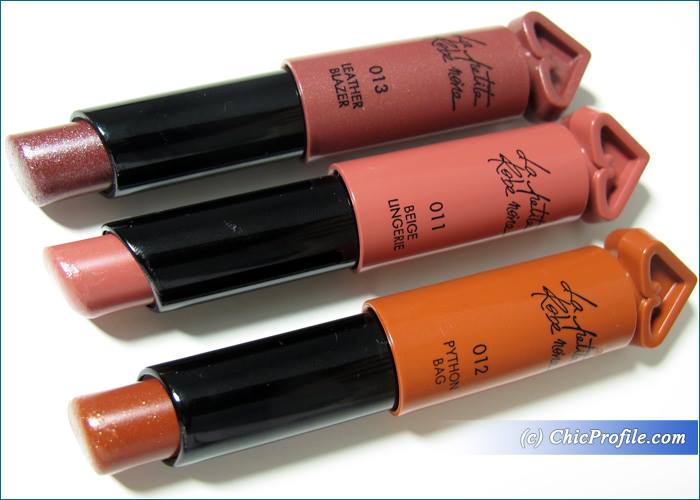 Where to buy:
Romania – Now at Sephora, Douglas
UK – Now at House of Fraser
Europe – February at Sephora, Douglas
Guerlain La Petite Robe Noire Lipsticks (145.00 Lei / £21.50 / €29.50 for 2.8 g / 0.09 oz) are available in a variety of 20 shades. They are all new colors that will be joining the permanent collection. I haven't been so excited about a lipstick collection in a long time, so no wonder I'm into Guerlain La Petite Robe Noire Delicious Lipsticks so much, since they present such a pretty irresistible packaging.
The formula as I said before in my previous reviews, is sweet floral scented and even the taste is sweet, so everything about these new lipsticks is pure candor, femininity and seduction. I must admit that by launching this new lipstick line, Guerlain did quite a good job, targeting a younger audience, as the colors vary from pink, corals, nudes to bright reds and plums, while the intensity of the color is purely your decision. All these lipstick colors have a buildable color intensity so its up to you if you want to keep the color sheer for a daily, more natural or nude makeup look and intensify it by applying several layers to achieve a more intense, opaque color coverage for a evening makeup look.
They glide amazingly onto the lips, without pulling or dragging, just a smooth veil like applying a lip balm. The formula is so lightweight, provides lips with hydration thanks to its composition of fine oils and makes lips appear fresh, plumped and seductive.
Guerlain La Petite Robe Noire (011) Beige Lingerie Lipstick is a medium nude peach with warm undertones, very subtle shimmer and a natural shine. The color is easily buildable, as you can see the difference in the swatches right after the second layer. I love this color for a natural look, it doesn't look to intense or bright on the lips so it would be perfect for those with fair and light skin tones. It's the kind of shade that would be appropriate to even wear it at school, at work, whenever you want something that will look as natural as possible. The creamy lightweight formula glided easily across the lips, making the smooth and soft and providing hydration. It doesn't emphasizes lip lines, on the contrary you can totally rely on it even when your lips need an extra hydration. I had about six hours wear with this color without leaving a stain behind.
Guerlain La Petite Robe Noire (013) Leather Blazer Lipstick is a dirty leather rosy brown with cool undertones and silver shimmer. It glides effortlessly across the lips and feels comfortable and lightweight. It's one of the few colors with a shimmer finish from this collection. It gives lips a nice fresh and luminous appearance, just the perfect color for natural pout with a sparkle twist. You can easily build up the color on your lips with several layers but I can't say it will look completely opaque, just a medium coverage. I absolutely love this shade as I can play with it an apply it over other lip colors for a pop of sparkle. I had 6 hours wear with this formula and once the color wore away it didn't leave a stain but some shimmer remained on my lips.
Guerlain La Petite Robe Noire (012) Phyton Bag Lipstick is a light bronzy-chocolate with warm undertones, fine gold shimmer and shiny finish. It's a bit of darker nude, compared to the other shades and very easily buildable up to a medium coverage. It gives lips a fresh, vibrant and luminous aspect thanks to its gold shimmer particles while the shine makes them appear plumped.
It's a shade that will look good on every skin tone, even though with fair skin if you keep it in one or two layers. The formula was just amazing as the others, very nourishing, glided easily across the lips and it kept them moisturized from beginning to end. I had about six hour and a half wear with this color and when it wore away I was left with a bit of shimmer on my lips.
Enjoy more photos…