Hello beauties!
Guerlain Fall 2016 Makeup Collection also known as French Lady Collection (video) is being revealed beneath my eyes. I was so excited to see, swatch and play with the new products that I can't believe the day has finally arrived. I'm jumping for joy as I'm writing this article as I can't wait to be done posting and start playing with each product, dipping my fingers into that soft texture of the new Guerlain 5 Color Palettes and trying out the new Guerlain Lingerie de Peau Foundation and Guerlain Multi Perfection Concealer with a hydrading and blurring effect. I will be telling you more about them in my next article and show you swatches like I did already on Instagram.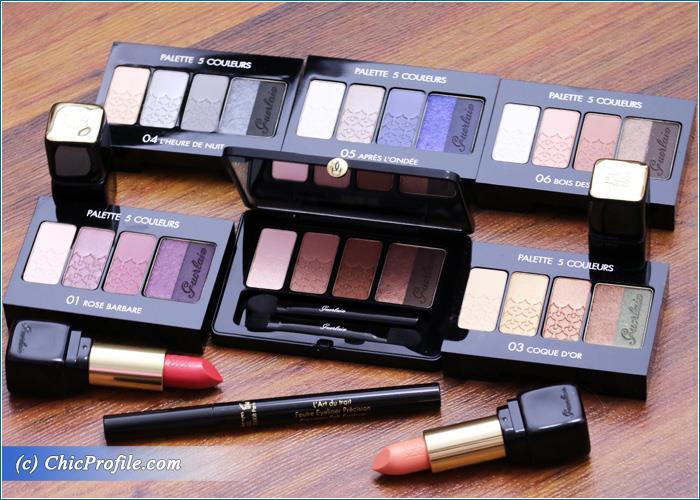 Ready-to-wear eyeshadow shades on the eyelids, a flawless sweep of eyeliner along the lashes, a flattering colour on the lips… the products from the Autumn 2016 Collection are the perfect allies for quick, easy and spontaneous make-up.
Availability
Romania Launch Date – 1 September 2016 at Douglas, Sephora, Kendra, Marionnaud
International Launch Date – August 2016
Guerlain Fall 2016 Makeup Collection Swatches
In terms of products, the collection is pretty simple but in the meantime looks so classy, elegant and perfect for autumn. I was longing to see some new eyeshadow color combinations this fall and I chose Guerlain 01 Rose Barbare 5 Color Palette as my favorite. There are six variations of Guerlain 5 Couleurs Palettes (300 Lei / €60.50) each one featuring one very light eyeshadow color which can be used as a base, two basic nude shades which can be applied all over the lid and two smoky shades. The last smoky eyeshadow color which has the name Guerlain as a pattern is the darkest in every palette and can be used not only for a smoky look, but to darken the outer corners of the lid or smudged underneath your lower lash line.
All the swatches shown bellowed were made on bare skin, applied dry and without any eyeshadow primer. There is one matte eyeshadow color in each palette and from what I can tell after the first swatch and as a first impression, it's the least pigmented but it does have a smooth texture. The rest of the eyeshadows have a satin or soft metallic sheen and incredible smooth texture. I will reveal more details in my upcoming reviews for each palette.
The two new Guerlain Kiss Kiss Lipstick (185.00 Lei / €37.00) shades in Fall in Nude and Fall in Red are very autumn oriented, nothing bright or too edgy. I was actually wearing Guerlain 500 Fall In Nude Lipstick today and this is such a soft very light nude shade, that goes on so sheer and natural on the lips, perfect for a casual day. Both lipstick shades have the same amazing Kiss Kiss nourishing formula that doesn't dry out the lips.
Guerlain Precision Felt Eyeliner (185.00 Lei / €37.00) comes in only one, black shade, and it's perfect for beginners as it has a friendly pencil-type of applicator. Deep and dense, this ultra-black felt eyeliner glides on perfectly, delivering a faultless line and impeccable coverage from the very first sweep of the pen. Smudge-proof and stay-true, it even resists water and tears for eight hours.
Enjoy more photos…