Hello pretties!
I promised you last month that I will be back with new photos and info for Guerlain My French Lady Collection (sneak peek). Actually it seems that Guerlain is launching a new range of 5-Couleurs Palettes along with two new shades of Kiss Kiss Lipstick, but I'm pretty sure that we'll see more of this collection. There will be six new Guerlain 5-Colors Eyeshadow Palettes looking absolutely lovely in my opinion, but if you are expecting some exciting colors, I'll have to say that these ones are more classic orientated. These palettes were inspired by Parisian woman's unique style and they have the perfect colors for a smokey eye.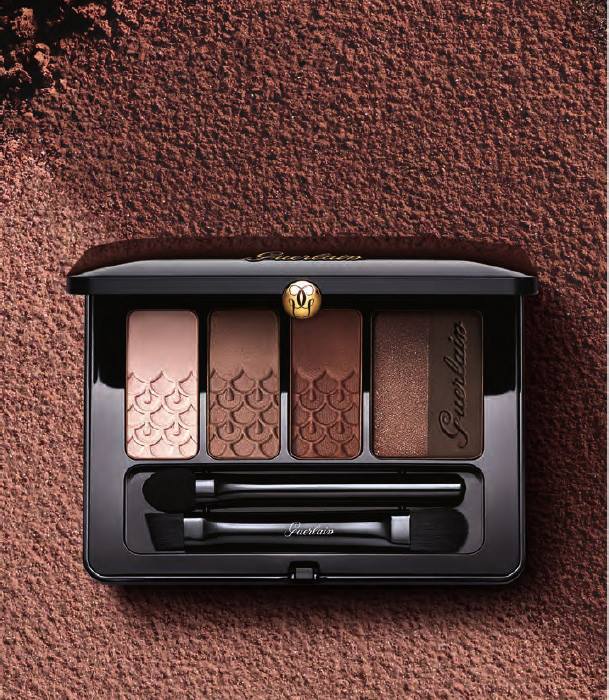 Availability
International Launch Date – August 2016

Japan Launch Date – August 2016
Romania Launch Date – 1 September 2016 at Douglas, Marionnaud, Sephora, Kendra
Guerlain Fall 2016 Collection
Guerlain 5-Colors Eyeshadow Palette – New & Permanent – €60.50 / 300 Lei

01 Wild Rose (Rose Barbare)
02 Tonka Imperiale
03 Coque D'Or
04 Midnight Time (L'Heure de Nuit)
05 After the Rain (Apres L'Ondee)
06 Smoked Wood (Indian Wood)
Precision Felt Eyeliner – €37.00 / 185 Lei

An unmistakably modern classic, this original felt eyeliner allows you to outline your eyes in made-to-measure style, for a subtly highlighted or ultra-graphic and enlarged effect, as the mood takes you. Black, svelte and cleverly designed, the Felt Eyeliner is as elegant to pull from your bag as it is easy to handle.
Kiss Kiss Lipstick – New Shades – €37.00 / 185 Lei

To add the ultimate finishing touch to this look, Guerlain offers two new KissKiss lipstick shades that perfectly match the eyeshadow tones. You can't go wrong! Whether impeccable nude or a delicate pinky red, these two subtle autumnal shades easily adapt to any skin tone or occasion, from midday to midnight.
500 Fall In Nude – tender nude pink
520 Fall In Red – delicate pinky red
Enjoy more photos…