Hello pretties!
Guerlain Spring 2015 Collection hit counters at the beginning of this month and the most interesting products were by far the new Guerlain Ecrin 1 Couleur shades (swatches, preview). I got see all the shades in person long before they became available and I brought home with me the entire collection so I had plenty of time to test each new Guerlain Ecrin 1 Couleur eyeshadow. I've already posted a Guerlain Deep Purple makeup look inspired by the shade with the same name that I'll be reviewing today.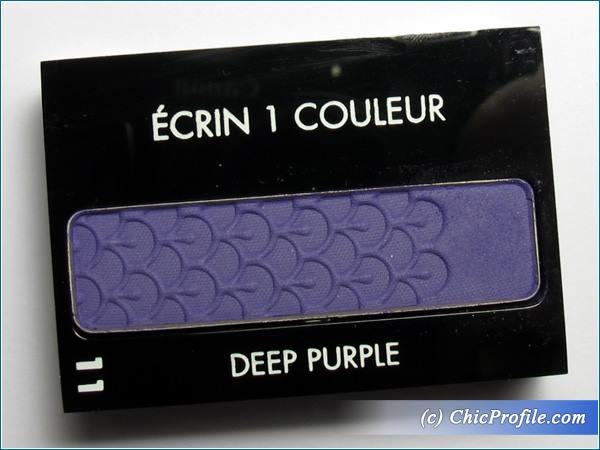 Availability
International / Romania Launch Date – Now at Sephora, Marionnaud, Douglas, Nordstrom, Macy's, John Lewis
Guerlain Deep Purple Ecrin 1 Couleur (165.00 Lei / $34.00 / £21.15 for 2 g) is a medium purple powder eyeshadow with a hint of blue and cool undertones. It is officially described as a satin finish Guerlain eyeshadow but it leans more towards a subtle matte finish. It has a smooth, velvety formula once swatched but it feels also somehow a bit powdery as it has some fall out once applied on the lid.
The color looks intense and truly pigmented on the pan but it takes several layer to built it up to a full opacity without an eyeshadow primer. You can check out the swatches bellow and if you apply it over an eyeshadow primer the eyeshadow behaves considerably better as it has more adherence, minor fall out and a better pigmentation.
It applies easily and blends easily as well but it doesn't reflect that deep, intense purple that I long for when I see this color in the pan. When applied it tends to turn into a softer variant of this Deep Purple and it will take a few layers to build up the color and make it look darker and more opaque.
I had about 8 hours wear with this formula without creasing and after 8 hours I noticed how the color was starting to softly loose its intensity. As you know, purple is hard to photograph so I also posted the new Guerlain Blue's Brothers Ecrin 1 Couleur (review, swatches, photos) next to it on the same photo so you can see the difference.
Enjoy more photos…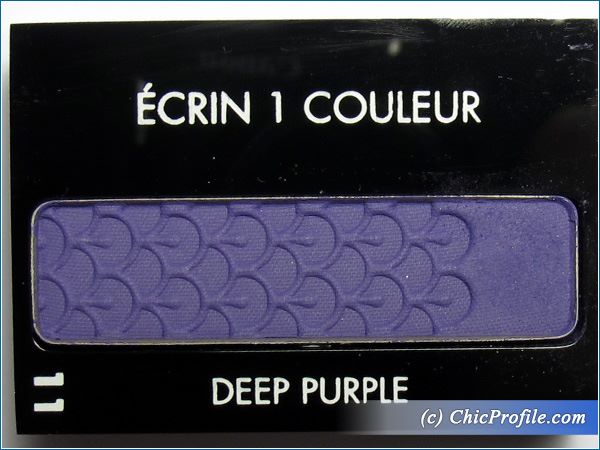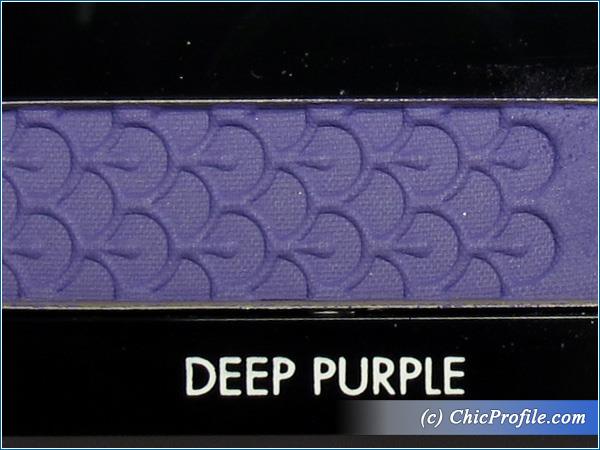 Guerlain Deep Purple Ecrin 1 Couleur Eyeshadow Review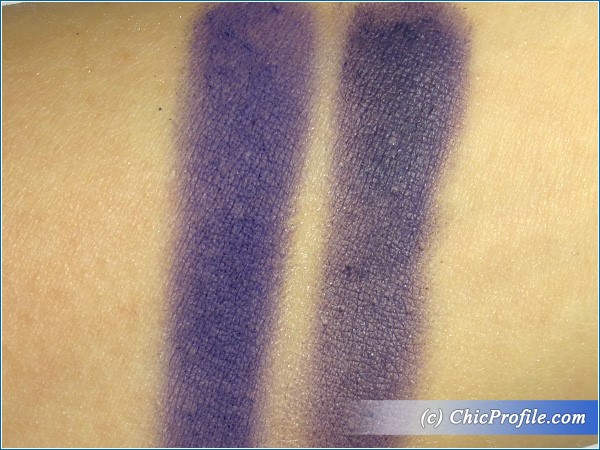 Guerlain Deep Purple Ecrin 1 Couleur Swatches – LEFT (without primer) RIGHT (over Too Faced Shadow Insurance primer)