Hello beauties!
I do love makeup, it's my passion but more than makeup I love skincare products. I've always invested more in skincare rather than makeup products as for me a beautiful healthy skin is essential. The new Guerlain de Beaute Skincare Collection that will be released this fall promises new skincare products of a high quality, resembling Guerlain Orchidee Imperiale skincare line, but with the prices similar of Clinique products.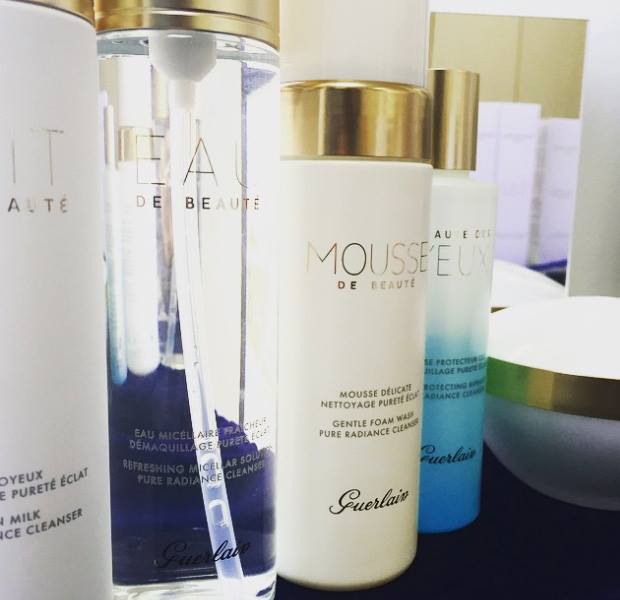 Availability
International Launch Date – September 2015
Romania Launch Date – September 2015
I consider myself lucky to have tested and held in my hand the new Guerlain Eau de Beaute (preview, photos) that I told you about in a previous article. I'm madly in love for micellar lotions like this one with a such a light formula and a refreshing feel once you apply it on your face.
The entire collection promises to have all the right products for different skin types and needs, especially when it comes to cleansing. Guerlain targets its younger customer with this new Beaute skincare collection, especially women in their 20's or early 30's so I'm definitely going to pick something up from this line.
Guerlain Lait de Beaute will be one of the products meant for facial cleansing, a gentle face milk cleanser which will most probably be suitable for those with dry or normal skin types. Since I have a combination skin type, that gets shiny on the T-zone I'll be definitely aiming for Guerlain Eau de Beaute, a refreshing micellar solution, a pure radiance cleanser, that will definitely work for everyone especially those with oily or combination skin types.
Guerlain Mousse de Beaute is a gentle foam wash pure radiance cleanser and I would see myself using this in the morning while I'm taking my shower. Usually cleansers with a mousse formula are destined for combination, oily or acne prone skin types but I will tell you more once I'll get the official information.
Guerlain La Beaute des Yeux is a protective radiance cleanser for eyes and I dare to hope it will erase even the heaviest eye makeup and waterproof formulas in a single swipe.  There will also be a Guerlain Creme de Beaute day cream and therefore I'm hoping a lotion will be released as well and a night cream.
I will keep you posted once I find out more info. I've already started emptying my skincare products, concentrating in finishing most of them by the time the new Guerlain skincare collection will arrive.
 Photo source: Guerlain Makeup Emna