Hello sweeties!
Givenchy presents Miss Interdit Collection which features 7 new shades, each one having its own muse, a girl wearing her new favorite lipstick shade.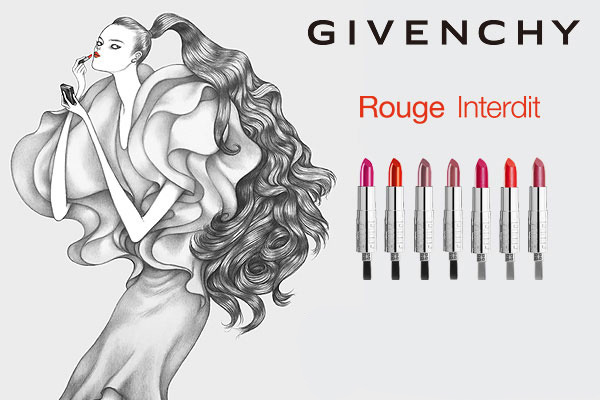 Availability
Japan Launch Date – 4 April 2014
International Launch Date – April 2014 at Sephora
Givenchy Miss Interdit Collection for Summer 2014
Givenchy Rouge Interdit – New Shades – €31.50
Audacious Coral – presented by Miss Audacious: a fearless risk taker, she's never afraid to speak her mind.
Glamorous Orange – presented by Miss Glamorous dressed and groomed to the nines, always!
Amorous Pink – a transparent nude pink wore by Miss Amorous who likes to share the love by blowing kisses at her admirers
Daring Fuchsia – wore by Miss Daring, a thrill seeker who's up for anything.
Enigmatic Rosewood – presented by Miss Enigmatic who loves to be mysterious, elusive and unpredictable.
Sophisticated Nude – wore by Miss Sophisticated who works the room, and the world, with a subtle slick of her favorite shade.
Charming Pink – of Miss Charming: sweet & demure, everyone lover her.
Enjoy more photos…