Hello sweeties!
We already had our first look at Givenchy Les Saisons 2016 Collection a while back so since we are getting closer to the launch date is time for some close-up photos and more details. A natural makeup with a flawless complexion is what Givenchy Les Saisons collection is all about.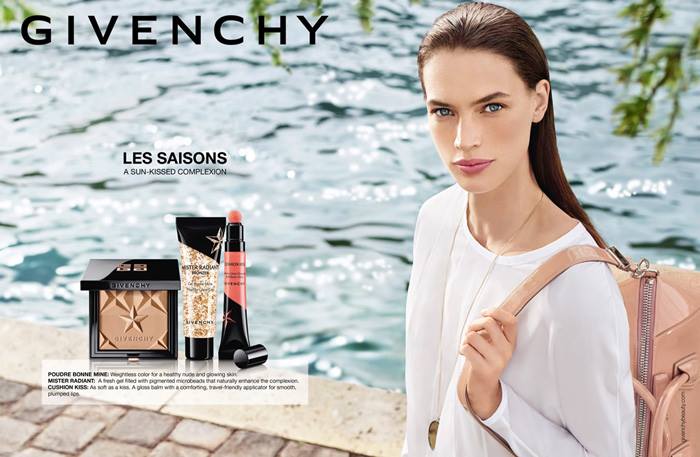 Seasons are caused by the circles of the earth around the sun. In the Givenchy collection Les Saisons is the sun that revolves around the most dazzling of all the stars of Givenchy firmament. The woman is a true revolution in the service of womanhood: perfect complexion and an always natural makeup – at any time, in any weather, in any season. No matter what season … mother Nature is a trick here beaten "
Availability
U.S. Launch Date – March 2016
UK Launch Date – April 2016
International Launch Date – May 2016
Givenchy Les Saisons Summer 2016 Collection
Givenchy Poudre Bonne Mine (Healthy Glow Powder) – New & Limited Edition – €52.00 / £36.00
This gorgeous bronzing powder it gives a luminous healthy glow with a soft metallic finish.
Shades:
Moonlight Saison
Premiere Saison
Douce Saison
Ambre Saison
Extreme Saison
Givenchy Mister Radiant Bronzer Healthy Glow Gel – €40.00
Mister Radiant is described simply in just two words: light and moisture. The hydrating, enriched with moisturizing ingredients gel can be gently massaged into the skin for a refresh complexion and a subtle makeup look.
Givenchy Mister Radiante Premier Fresh Face Smoothing Base – €40.00 / £25.00
Specially developed for light skin types, the newcomer Mister Radiant Primer can be used for both men and women and combine with Mister Radiant Bronzer.
Givencny Mister Radiant Blush (Healthy Glow Brush) – €35.00 / £25.00
The third version of Mister Radiant Blush has a water-gel based formula with pink and pearly beads that will give you a fresh and healthy looking complexion.
Givenchy Cushion Kiss Baume Gloss Douceur – €25.99
Shades:
01 Coral Kiss
02 Berry Kiss
Givenchy Khol Couture Waterproof Eyeliner – €22.00 / £16.00
Shades:
01 Black
02 Chestnut
03 Turquoise
04 Electric Blue
05 Intense Green
06 Purple
Noire Couture Volume Waterproof Mascara – €34.00
Enjoy more photos…