Hello beauties!
Givenchy Rouge a Porter was released in 16 shades in spring 2015 and since I saw the variety of pinks, plums and berry shades this lipstick has to offer, I knew it will be hard to decide which one to bring home with me. Take a look at these swatches of Givenchy Rouge a Porter lipstick and you can spot some of my favorite shades. Many have been excited about the launch of this elegant, chic lipstick which comes in a stylish leather packaging but my personal favorite is shade #303 Framboise Griffee.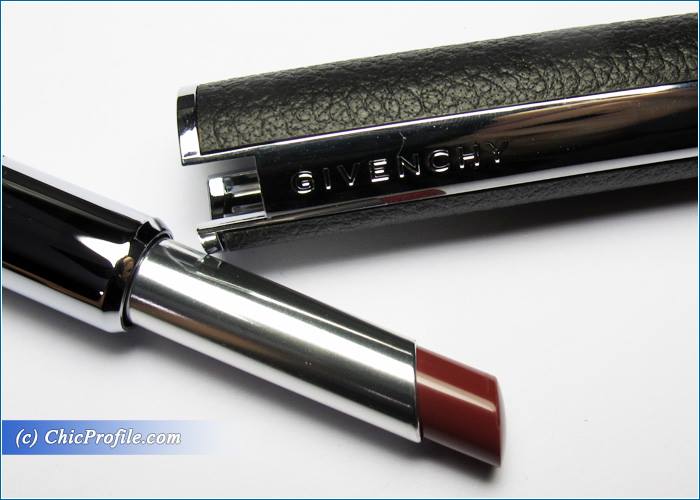 Availability
Romania – Now at Sephora, Douglas, Kendra | International – Nordstrom, Macy's, Sephora, Debenhams
Givenchy 303 Framboise Griffee Rouge a Porter ($36.00 / 156.00 Lei / £25.00 for 2.2 g / 0.07 oz) is medium berry with cool undertones and a natural shine. I absolutely love this color, which doesn't too intense or bright in combination with my light ski tone.
It has a semi-opaque color coverage with a soft sheen, nothing to shiny though. The formula uses hyaluronic acid to plump the lips and natural microcrystalline to smooth and protect.
Back in summer I did an article as a comparison between Givenchy Rouge a Porter formula and Givenchy Le Rouge and the first lipstick has a formula which is significantly lighter and it's not totally opaque on the lips. You'll get a good color payoff, a bit more similar to a stain but not that intense, rich opacity.
The texture is so smooth and velvety, very well balanced between a lipstick and a lip balm, without being sticky or tacky at all. It glides amazingly well on the lips, spreading the color evenly without settling into lip lines. I find the formula to be slightly hydrating, but not moisturizing enough and it wear well for about 4 hours. I noticed a light floral scent in the tube and also when I applied the color, but I didn't notice any taste.
I totally adore this elegant, stylish and ladylike Givenchy Rouge a Porter lipstick which has a special place in my makeup collection, since it's one of a kind and totally stands out among others.
Enjoy more photos…