Hello pretties!
I've always been hooked on Giorgio Armani lip products, from their intense or sheer sparkling colors to their stylish and modern packaging. This season Giorgio Armani announced the launch of the new Lip Maestro Drama 2016 Collection which will feature 6 new shades.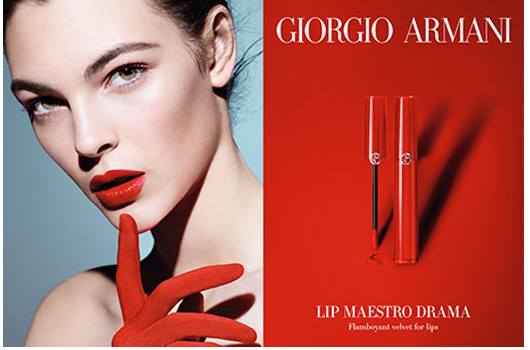 I don't have too much info at the moment about the name of the shades or a release date, but I thought you'll want to take a first look at the Armani Lip Maestro Drama 2016 shades until more information becomes available.
I'm still in love with my Giorgio Armani 506 Maharajah Ecstasy Lacquer (review, swatches) that I purchased in London last November and the color often finds its way on my lips whenever I want a bright, glossy finish shade that will last for hours on end without fading even when I eat or drink, not to mention that is also kiss-proof. 🙂
The new colors claim to have a moisturizing formula with a long lasting effect (up to 8 hours) while displaying an impeccable color. The finish seems to be matte (I hope I'm not mistaken) while the colors are vibrant and feel soft and smooth as silk when applied across the lips. It's said to be more that just a superior lip gloss so I'm wondering if it will retail for the same price of $38.00 as the usual Lip Maestro lip products.
Giorgio Armani Lip Maestro Drama – €39.95 / $38.00
Shades:
No.400
No.407 Drama Red
No.505 Eccentrico
No.510 Drama Berry
No.511 Shocking Pink
No.512 Drama Nude
No.513 Drama Glow
Enjoy more photos…