Hello pretties!
8 September 2017 was a hot day in the beauty world as Fenty Beauty by Rihanna Collection launched globally. I didn't want to get into details until now, hoping the LIVE SWATCHES from Instagram were enough, but many of you asked me what's my impression regarding this release. I let things cool down for a couple of days in the beauty world before posting this as I'm aware of the hype this launch created worldwide. The details of this collection were kept a secret until very close to the launch date. Rihanna threw a party before the collection went live online so I'm sure you've seen live videos posted by beauty influencers who were invited. We got to see the first swatches then, check out the packaging and find out more about the products but I know many were still shopping in the dark when the collection launched.
I went to the store on the launch day because I wanted to check the products in person and make swatches for you guys, but honestly I didn't go there with the intention of shopping. Why is that? First of all even though I like the idea of magnetic packaging and it's truly a cool feature, I didn't really like the packaging of the products overall. This is just a matte of taste and I know there were so many who went crazy over this travel friendly packaging, but it's not for me. Second of all, the collection is mostly focused on foundation, highlighters, contouring and match sticks which are not products that I'm buying pretty often. It was only one lip gloss and the color was so dupable that just didn't get my attention. If there were more lip and eye products involved I might have got something just for the sake of reviewing.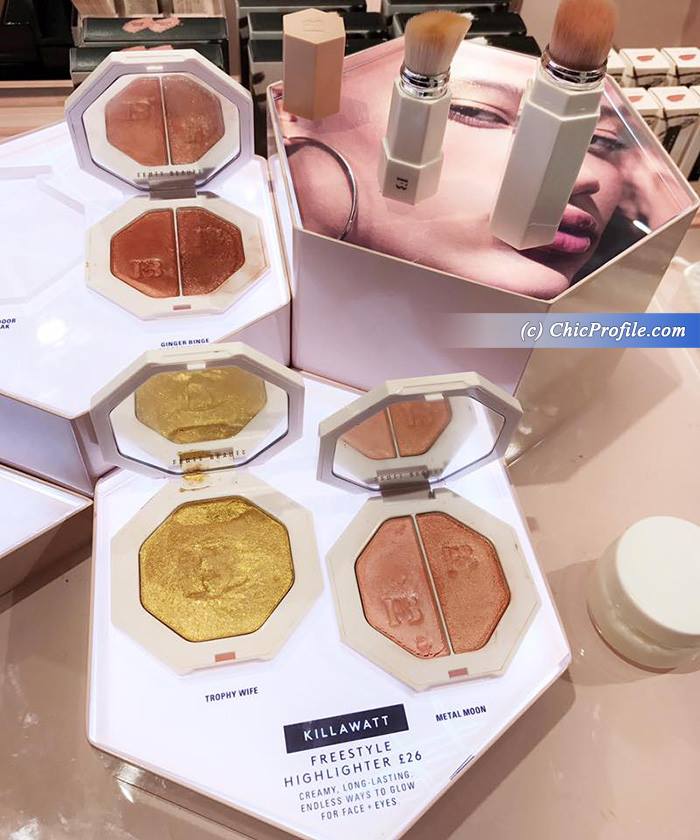 Where to buy:
U.S. Launch Date – Now at Sephora
UK Launch Date – Now exclusively at Harvey Nichols
Singapore Launch Date – 8 September 2017
Fenty Beauty by Rihanna Collection Swatches, Impressions
Now, I think you already know from my Instagram post that I went to the shop in the evening, hoping that weren't too many people at the counter. I couldn't have been more wrong as the queue was enormous and people where waiting there for hours. Before entering the store I asked what the queue was for and I was told that only if I want to purchase the products I'd have to queue. With that being said I entered the store, arrived at the counter and started testing and swatching the products. Once I was done (thank God for that) I was asked to show my bracelet (that I was suppose to have) cuz without that you were not allowed to approach the counter.
Well you see, you'd have to queue outside not only to shop but also to see the products up close and try them before you decide that is worth spending hours outside in the cold to get products that you've seen only online. My mentality is a bit different here, I'm impatient and I don't like to queue but here in London I see queuing is a national sport. I'm not judging or anything, if you really want something that bad and is worth spending hours in a line, then go for it. But why would you wanna do that if the collection is permanent (we are not talking about a very limited edition release or collector's items here) and available online at the same time? Unless you might be needing that new foundation and highlighter right then and there! I totally agree that seeing the products in person is better than seeing online swatches, having your foundation shade matched right at the counter is important but then again, all these products are permanent.
I kinda hurried my time at the counter because it was so very crowded and most of the products were not arranged by colors anymore so it was a completely chaos. Even the people who were the bracelets didn't spent to much them in there, because everyone was hurried (you know more people waiting outside) and since you've already queued for a while I don't think you'd leave there with your wallet untouched.
So after explaining a bit about my first impression there at the counter, you can imagine now why I don't really get the hype over this collection. Most of the colors I swatched were pretty impressive, high color pay-off, very pigmented and shiny. Again, most of the shades I think they are suitable for darker skin tones as I wouldn't imagine a light skin tone like me wearing Trophy Wife as a highlighter. I mean this one is potent, so I might have used it as an eyeshadow if I'd liked gold. Applying this color even with a light hand will still give you plenty or sparkle and shine which can look amazing on darker skin tones.
For my skin tone personally, I think there were only a couple of products that would suit me, as it's not my style of wearing super strong, shiny and sparkly makeup. I know the range will surely expand and I'll be looking at the lip products and eyeshadows if that happens.
The foundation range has 40 shades which is definitely impressive. Many will find their right matching shade as Rihanna also focused a lot on those with darker complexions. The coverage is medium up to fully opaque so you can easily hide any skin imperfections.
The highlighters are very pigmented, very intense and shimmery but for me only Lightning Dust/Fire Crystal would be suitable.
The match stick trio was definitely something that look very appealing as you can use the sticks to conceal, contour and highlight. Basically you have everything in just one Trio. Nothing I've never seen before but the consistency was creamy and they glided on easily across the skin.
This first launched was basically about face makeup products, mostly suitable for medium to darker skin tones. I'm just going to wait for the future releases of Fenty Beauty and I kinda hope they'll change the packaging. I know it was mean to be travel friendly and it's sturdy and so compact, but I need something more feminine, glamorous and chic. Prices are also affordable considering that Riri could have gone up a couple of bucks per product but she kept her cool here and I appreciate that. I'm sure many of her fans bought at least one piece from this collection and I really hope they enjoyed it.
If you got any products I'd love to hear your opinions in the comments bellow! 🙂
SHOP THE POST
Enjoy more photos…