Hello pretties!
Too Faced I Want Kandee Collection for Fall 2017 is a collaboration between makeup artist Kandee Johnson and Too Faced Cosmetics. Launching in a few days, the collection is a limited edition featuring new shades of Melted Matte Liquified Long Wear Lipstick, Candy Eyes Palette and many more. Discover Too Faced I want Kandee Collection right after the cut. Keep your eyes on the blog as I'll be returning with Too Faced Holiday 2017 Collection later today.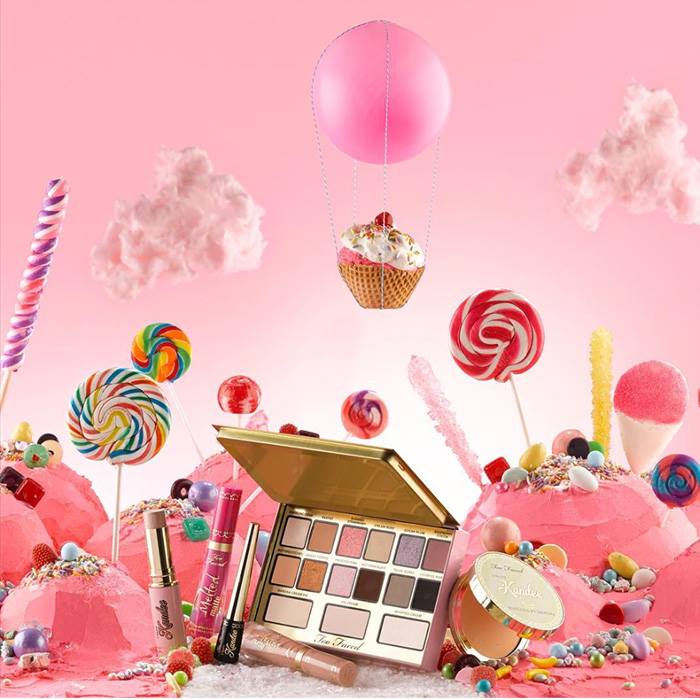 Availability
U.S. Launch Date – 31 August 2017 exclusively at ULTA | 3 September 2017 at Too Faced
Too Faced I Want Kandee Fall 2017 Collection
Includes shimmer and matte shades:
Sparkling Cider
Pastry
Sugared Strawberry
Cream Puff
Sugar Plum
Raspberry Cocoa
Butterscotched
Sweet Toffee
Frosted Pink
Hot Chocolate
Taupe Berry
Licorice Rope
Banana Cream Pie
Ice Cream
Whipped Cream
Melted Ice Cream – matte pinky nude (New)
Freshly Baked – matte dusty rose (New)
Tropical Punch – matte hot pink (New)
Sweet n Sour – matte coral red (New)
This brightening face powder really smells like banana pudding so it will be irresistible.
Too Faced I Want Kandee Candy Glow Luminizer is a blendable candy-scented luminizer that will help you get all the right angles and achieve Kandee's coveted luminous glow with just one swipe.
Candy Liner – Limited Edition – $18.00
Too Faced I Want Kandee Candy Liner Black Liquorice Eyeliner is a super long-wearing, smudge-proof, budge-proof liquid liner that is the beauty tool Kandee has always dreamed of and will help you create her signature cat eye.
Black Licorice (3.0 ml / 0.10 fl oz)
I'm really excited about this collection and I will check it out when it hits counters in London. I'm thinking of two of the new shades of matte liquid lipsticks as I've already seen swatches on Instagram. The palette is beautiful, the colors are just what I love but I don't know if I'll get it though. I just splurged on Dior yesterday and I'm saving for Too Faced Holiday 2017 Collection (upcoming post).
SHOP THIS POST
Enjoy more photos…