Hello beauties!
Last week Eva Mendes signed with Estee Lauder and she will be featured on Estee Lauder New Dimension Skincare Collection campaign starting from fall 2015. We will be seeing the Hollywood actress in digital, TV and print advertising campaigns regarding the new Estee Lauder New Dimension skincare products.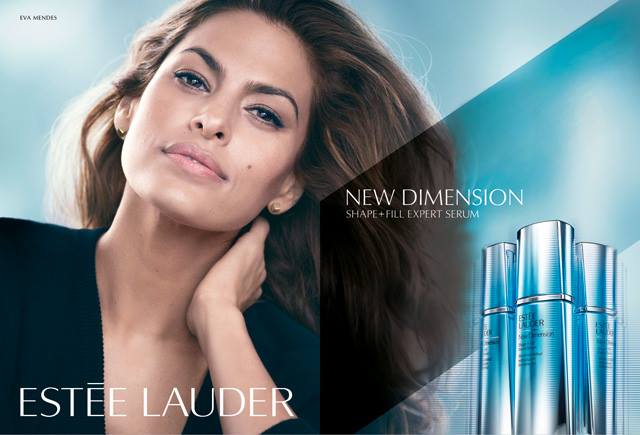 "I'm thrilled to welcome Eva to the Estée Lauder family to represent New Dimension skincare," said Jane Hertzmark Hudis, Global Brand President, Estée Lauder. "As an actress, businesswoman and now a mother, Eva understands the power of transformation that is at the heart of our new approach to beauty. Eva's warmth and approachability will help us share this incredible story with women around the world."
Estee Lauder New Dimension Skincare Collection for Fall 2015
"Since my teenage years, I have always admired Estée Lauder, the woman and the brand," said Mendes. "I'm excited to represent New Dimension skincare because I can relate personally to what it stands for – the power we have as women to take control and transform our own beauty."
The Estee Lauder fall 2015 skincare collection features New Dimension Shape, Fill Expert Serum and New Dimension Expert Liquid Tape. It empowers women to transform their appearance, helping define the look of contours so every angle becomes a woman's best angle.
I will return with more details and photos closer to the launch date.