Hello beauties!
I got this Estee Lauder Pure Color Eyeshadow duo compact back in December during a swap event between beauty bloggers. I knew it wasn't a new release but since Estee Lauder is a dear brand to me I want to try as many products as I can and share with you my impressions.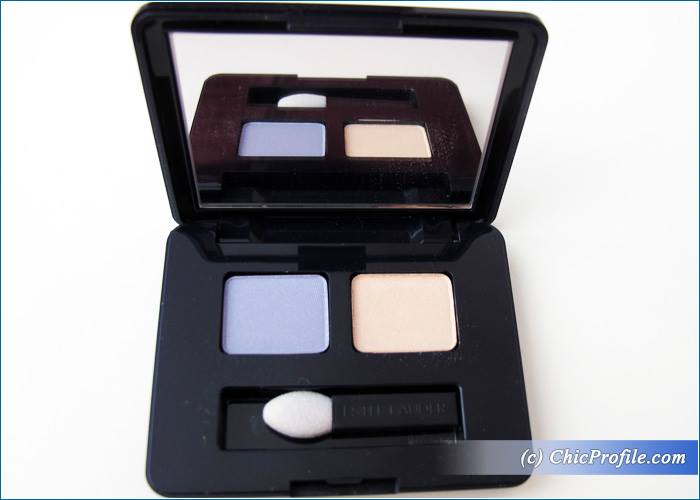 Availability
International – Now on Ebay
Estee Lauder Pure Color Eyeshadow (£6.29) is an eyeshadow duo featuring Winking Periwinkle and Ivory Slipper colors. It comes in this small dark navy blue plastic compact with a lid that snaps shut and it bares the golden logo of Estee Lauder. Inside there are the two small eyeshadows but you will also find a sponge-eyeshadow applicator and a mirror that can become very handy if you keep it in your bag and you want to use it for retouches.
Estee Lauder Winking Periwinkle #19 Eyeshadow is a light baby blue with a soft satin finish. It has an incredible smooth texture that feels so soft and lightweight against the skin. It's applied easily without any fall out and adheres better when paired with an eyeshadow primer. The color remains in the light area, meaning that is not very pigmented, rich or intense and it won't deliver an opaque color coverage. Estee Lauder Winking Periwinkle is the kind of shade appropriate for spring or anytime you want to have a casual or pastel eye makeup look.
Estee Lauder Ivory Slipper #10 Eyeshadow  is a very light vanilla beige with a soft satin finish. It gives more like a sheer, slightly up to light medium coverage so it can be used as a highlighting color or a transition one as it's close to my skincolor (that is if you are a light skin tone). It has a very smooth, silky formula that applies and blends effortlessly without any fall out. It doesn't feel dry and doesn't look patchy.
I'm sure you have seen these two colors in previous releases like the Estee Lauder Pure Color 9 Eyeshadow Palette that was launched about 3 years ago if I'm not mistaken and they were at one time available as single eyeshadows as well.
Enjoy more photos…