Hello beauties!
August 2016 sees the launch of Estee Lauder  Revitalizing Supreme + Global Anti-Aging Collection; featuring a unique and exclusive Moringa extract which supports skin's natural Nrf2, helping "turn on" multiple anti-aging benefits, including new anti-irritation and anti-oxidant pathways. The Moringa extract also helps amplify the benefits of a powerful collagen complex, to help further promote natural collagen, while a Prickly Pear Cactus extract nourishes and strengthens skin's moisture barrier. This powerful collection addresses the look of multiple signs of aging, significantly improving skin's visible firmness, density and elasticity, and reducing the look of lines and wrinkles. Skin recovers quickly from the visible effects of daily stress and fatigue, and looks and feels deeply nourished. Over time, the benefits build – skin springs back with new bounce and radiant vitality.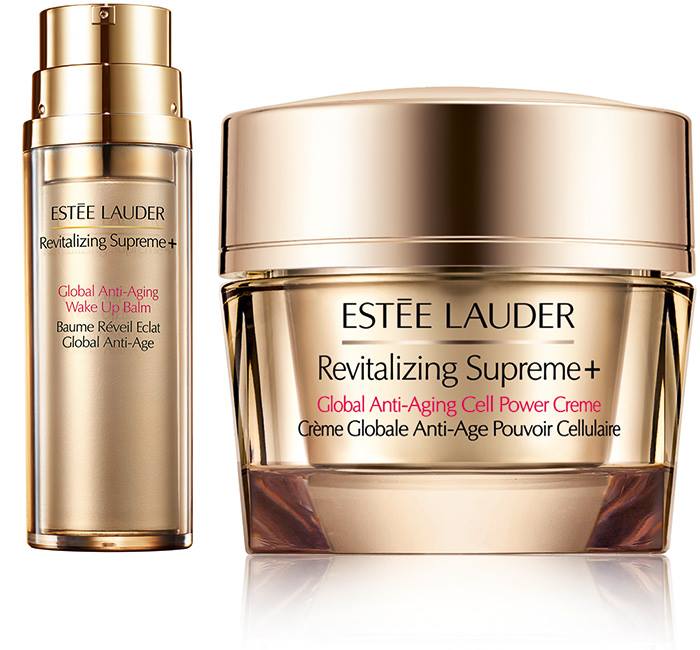 "This exclusive Moringa extract has allowed us to target even more anti-aging pathways, including skin's natural anti-irritation and anti-oxidant pathways to help defend against environmental aggressors," says Dr. Nadine Pernodet, Vice President, Skin Biology and BioActives Research & Development, Estée Lauder Companies.
Availability
U.S. Launch Date – beginning August 2016 at Estee Lauder counters
Estee Lauder Revitalizing Supreme Global Anti Aging Collection
ULTRA FIRMING
Estée Lauder's exclusive Moringa extract was also found to amplify three collagen ingredients – marine algae extract, whey protein and a peptide. In vitro testing of the Moringa extract combined with a collagen complex showed they worked together to increase collagen by over 200%1. NEW Revitalizing Supreme + helps improve skin's natural production of elastin and hyaluronic acid production and restore skin's natural firmness, density, elasticity and youthful bounce. Lines and wrinkles look diminished for a smoother, younger and more revitalized appearance. In just two weeks skin firmness is significantly improved.2
EXTRA NOURISHMENT
In order to help skin resist the signs of aging, it is critical for skin to remain hydrated, healthy, and nourished. NEW Revitalizing Supreme + features a Prickly Pear Cactus extract that is proven to provide barrier strengthening and nourishing benefits to skin, as well as additional collagen-boosting properties. The silky formulas drench skin in lasting hydration so skin feels comfortable and smooth with a youthful suppleness and plump, cushion-like touch. With continued use, skin's barrier is stronger and better able to seal in precious moisture.
HEALTHY RADIANCE
Boosting skin's radiance keeps it looking healthy and well-rested. From the first application, dullness begins to disappear and skin looks more radiant with a naturally vibrant and healthier glow. Over time, the formulas, which include glucosamine, improve skin's texture as cell turnover is improved, revealing a smoother, brighter, and more perfected complexion. Skin looks visibly refreshed, smooth and glowing. The formulas feature powerful anti-oxidants and anti-irritants, including Vitamin E, to help keep skin calm, soothed and protected, so it can better defend itself against aging environmental aggressors and discourage skin discoloration caused by irritation.
CITRUS FLORAL SCENT OF REVITALIZING SUPREME
New Revitalizing Supreme Plus Global Anti- Aging Collection features the beautiful exclusive scent from the original Revitalizing Supreme. This oriental citrus floral scent includes sheer top notes of Mandarin and Bergamot and combines those notes with beautiful floral notes of Tea Rose, Jasmine, and Violet and evolves with bottom notes of Vetiver, Sandalwood, and Powdery Vanilla.
Global Anti-Aging Cell Power Creme (50ml) $78.00
Global Anti-Aging Cell Power Creme (30ml) $52.00
Global Anti-Aging Wake Up Balm $62.00