Hello sweeties!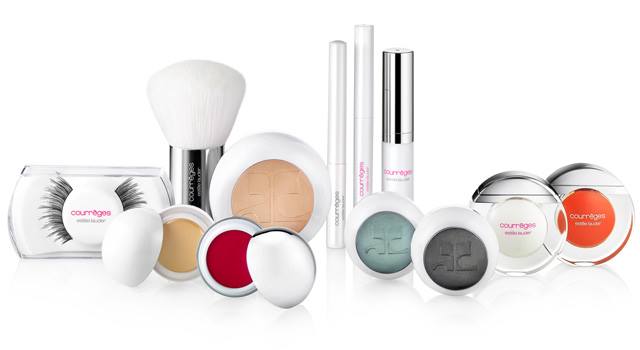 Estee Lauder Courrèges Collection for spring 2015 is a new innovative 13-piece limited edition line that marries the floating-on-air feeling of an embellished Courrèges mini dress, and the punched-up precision of Estée Lauder's progressive product design, seen through the Courrèges lens. The formulations were designed to be surprising in their lightness, in their sensorial delivery, their translucency, reflectivity, and in their pop-y palette. They are an invitation to have fun with color, texture and special effects while defying the confines of nostalgia by creating a look that is wholly of today.
Two innovative brands collaborate to create a "pop-timistic" limited edition makeup collection, featuring zero gravity shades that float on lips, eyes and face.
Cosmonauts, satellites, missiles to the moon. Unprecedented advancement and achievement underwrote the inaugural period of intergalactic exploration that came to be known as the Space Age of the early-1960s. When a culture of futurism subsequently consumed the era, there were two names firmly in the vanguard: Estée Lauder and André Courrèges. She, a beauty industry innovator whose "every woman can be beautiful" mantra was ahead of its time; he, a fashion force whose avant-garde aesthetic broke all the style rules by injecting an air of playfulness, movement, and egalitarianism into every one of his haute couture collections. Visionaries both, their brands have now joined together to pioneer a new interpretation of color. Introducing Courrèges Estée Lauder Collection: a limited edition collection of zero-gravity shades that draws on a shared point of view on color, beauty and the resolution to never stop moving forward.
Availability
U.S. Launch Date – beginning March 2015 at all Estee Lauder counters and nationwide
Estee Lauder Courreges Collection for Spring 2015
Lip Visor – New & Limited Edition – $26.00
With a vivid, plexi-like shine reminiscent of Courrèges' fondness for transparency, an ordinary gloss this is not. A rich balmy formula, it imparts a luscious, wet effect. Lips feel instantly smoothed and soothed, with an impactful pigment pay-off that is impossible to ignore, without trying too hard.
Super Gloss – New & Limited Edition – $26.00
High coverage, high-impact focal point lips! With the perfect pop of high reflectivity pink, this dramatic gloss features a special delivery system with an innovative flow-through tip to allow for an easy-on, flawless application with every swipe.
Super Lashes – Limited Edition – $32.00
Sixties-era spider lashes get a 21st-century reboot with these long, full, natural-looking eye accessories that are perfectly shaped to provide a striking flutter and next-level definition. Measure the strips along your lash line, trim accordingly and add a thin layer of lash glue along the perimeter, waiting 30 seconds for the adhesive to become tacky before pressing it onto the inner corner of lids and working your way outward. To remove, gently pull the lashes away from the edge.
Eye Amplifier – New & Limited Edition – $26.00
The graphic white personified by Courrèges original moon girls inspires this new compact, which features a clear, twist-off lid that encloses an ultra-luxe eyeshadow. Applied best with a brush, the weightless powder formula has been spiked with a special siliconic polymer that allows the product to attach itself seamlessly to the skin. Use wet or dry for shimmering, radiant dimension and a glass-like finish that lasts for hours without creasing.
Eye Glide Pencil – New & Limited Edition – $22.00
Metallic accents have long illustrated the oft-publicized dream of the future perfect. Here, they become reality with a creamy silver pencil that glides onto eyes to shade, define and smolder. Create structure and depth by blending across lids with your fingertips, or line and define along upper and lower lashes for a bold, standout statement.
Iridescent Ball Highlighter – New & Limited Edition – $26.00
"I want to let the light into my clothes," Courrèges would say of his preference for lucidity above all else, which has inspired this iridescent powder gelée. The innovative plastic orb applicator that houses a sensorial cream can be dotted onto cheeks for an allover polished glow or onto temples, cheekbones, and other high planes of the face for a concentrated highlight.
Lip + Cheek Ball – New & Limited Edition – $26.00
This revolutionary jelly-like gloss has a full-throttle shine and a translucent berry hue that adds a slight tint to lips, while imparting a rosy glow to cheeks for a happy flush.
Ultra White EyeLiner – New & Limited Edition – $26.00
White is the new black with this vibrant, opaque liquid eyeliner that provides a brilliant vinyl finish in the classic color code of the house of Courrèges. The super-fine eyeliner boasts a dip-in fine brush applicator to scrawl the perfect feline flick with a shocking pop of starkly bright, white pigment.
Illuminations Face Powder – New & Limited Edition – $32.00
Create glowing, otherworldly skin with this silky-effect powder. Brush over cheeks, forehead, and brow bones for a burst of pure light that is velvety-soft with an impeccable, long-lasting quality.
Hair Mascara – New & Limited Edition – $32.00
Colored wigs were just one of the styling tricks in André Courrèges carefully art-directed playbook. To pay tribute to this visual triumph, Estée Lauder has developed a hair mascara that uses a pop of color to subtly highlight hair. Remove brush from vial. Stroke downward through dry hair after styling. Let set for a minute or two. Avoid eye area.
Kabuki Brush – Limited Edition – $36.00
This lush bouncy tool adds a ritualistic feeling to the simple act of adornment. Luxuriously soft, white bristles give a uniform finish to mattifying, highlighting and contouring efforts, while working particularly well in tandem with the Illuminations Face Powder.
Enjoy more photos…