Hello beauties!
This time no more sneak peeks of Estee Edit Makeup and Skincare 2016 Collection which is inspired by Kendall Jenner and blogger Irene Kim, because I have all the info and photos of the new products to show you. Launching next month, the new Estee Edit Line by Estee Lauder is aiming for younger consumers and comes up with innovative skincare products and makeup items. Let's take a look and discover Estee Edit 2016 Line right after the jump.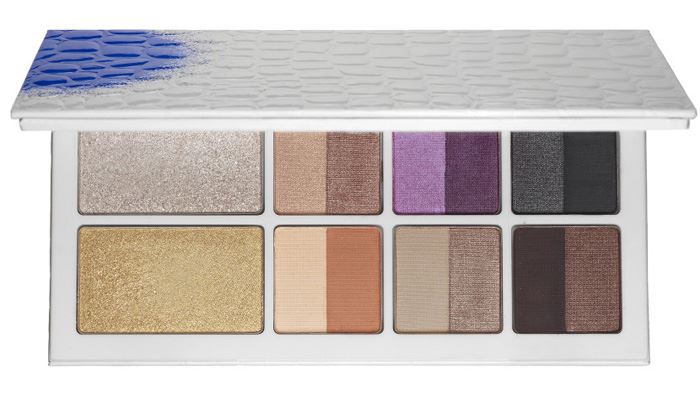 Availability
U.S. Launch Date – 15 March 2015 exclusively at Sephora (320 locations) | beginning July 2015 @esteelauder.com
Estee Edit 2016 Makeup and Skincare Line
Beam Team Hydrate + Glow – $55.00 CAD for 50 ml / 1.7 fl oz
A two-in-one hydrating cream for a luminous glow.
Dissolve the Drama 2-in-1 Makeup Remover + Cleanser – $36.00 CAD for 200  ml / 6.7 fl oz
An instant action long-wear makeup remover and cleanser enriched with jojoba oil, aloe, and cucumber.
Dissolve the Drama Longwear Makeup Remover Wipes – $18.00 CAD
A package of fast-working wipes to remove even the most stubborn, pigmented, and long-wear makeup.
Flash Illuminator – $32.00 CAD
Available in 5 tones this is a complexion hybrid of a highlighter combined with a hydrating skin care ingredients.
Flash Photo Gloss – $23.00 CAD
A high-tech gloss with a cool blue tint to highlight the white of teeth.
Flash Photo Powder – $36.00 CAD
An oil-absorbing, translucent, blue-hued powder that brightens your skin.
Hi Lo Stylo Contour + Highlight – $32.00 CAD
Shades:
01 Light / Medium
02 Medium / Deep
Late Night Eraser Brightening Eye Balm with Pink Peony – $48.00 CAD for 15 ml / 0.5 fl oz
A refreshing eye balm to improve the look of the delicate eye area, working to add radiance, soothe, and hydrate.
Lip Flip Shade Transformer – $22.00 USD / $25.00 CAD
A sheer-tone lip product to lighten or deepen any lipstick for your perfect custom shade.
Shades:
Mattified Lipstick – $25.00 CAD
A bold, matte lipstick that's gentle on lips infused with 20 percent conditioning oils, including jojoba oil, it leaves a luxurious and light finish. Available in 12 shades.
Mega Chlorella Algae Cleansing Bar – $25.00 CAD
A cleansing bar featuring refreshing chlorella algae to cleanse and revitalize your face.
MetalliShadow Creme + Powder – $25.00 USD / $29.00 CAD
A pack of two shadows in cream and powder formulas. A high-pigment cream eye shadow in the cap that's the perfect base for the loose metallic powder in the package bottom.
Shades:
AquaNova
Black Star
Scarlet Eclipse
More Than Brows – $25.00 CAD
It fills in brows in a snap, lines your eyes with one stroke, and softly contours lids.
Shades:
Blonde
Light Brown
Rich Brown
Espresso and Black
Peony Overnight Water  Pack – $55.00 CAD
A water-gel mask enriched with fruit and flower extracts that delivers a mega-shot of healthy hydration while you sleep.
Pore Vanishing Stick – $28.00 USD / $32.00 CAD
A portable stick that glides onto skin for a fresh, natural, pore-perfect look.
Rescue Balm for Face + Body – $50.00 USD / $55.00 CAD
An allover oil-infused cream to rescue dry, dehydrated skin. This formula is packed with over 20 percent fruit and nut oils—including coconut, avocado, and mango—to drench skin with moisture and nutrients.
Skin glowing Balm Makeup with Pink Peony – $40.00 CAD
A dewy liquid foundation infused with Pink Peony for glowing coverage. Available in 12 shades.
Stress Relief Eye Mask – $44.00 CAD
A revitalizing, 10-minute treatment to refresh the undereye area for a youthful look.
The Barest Blush – $32.00 CAD
Create a gorgeous flush of color with The Barest Blush. It's infused with micronized pigments and sunflower seed oil to create even, natural-looking color.
Shades:
01 First Lover
02 Coy Coral
03 Purr Pink
04 Ember Glow
The Barest Contour Lip Liner – $23.00 CAD
An automatic lip pencil to shape, enhance, and contour your lips for a naturally full look. Available in 6 shades.
The Barest Lip Color – $22.00 USD / $25.00 CAD
A nude lip formula that's a lipstick and lip balm hybrid. Comes in 6 shades to match lip liner.
The Blackest Liner – $25.00 CAD
An ultra-black, soft marker liner with 12-hour wear.
The Edit Eyeshadow Palette – $48.00 USD / $54.00 CAD
An eyeshadow palette inspired by Estée Edit Guest Editor, Kendall Jenner.
6 x 0.08 oz Eye shadows in satin, pearl, and sparkle finishes
6 x 0.09 oz Eye shadows in satin, pearl, and sparkle finishes
0.15 oz Shade Transformer in Rays Sparkle
0.15 oz Shade Transformer in Silver Sparkle
The Edgiest Up & Out Double Mascara – $28.00 CAD
A 15-hour wear mascara with two brushes to create maximum impact: bristle for volume, molded for lift and curl.
White Mud Exfoliating Scrub + Mask – $44.00 CAD
A dual-action detoxifying and pore refining mask and exfoliating treatment.
Enjoy  more photos…