Hello beauties!
Wedding season is almost here and brides to be have this year a double reason for joy thanks to the new Essie Bridal Spring 2015 Collections. This year Essie launches two Wedding nail polish collections, one for the classical bride to be which prefers a french manicure and the other a little bit more bright with a pop of color on their nails. Nude style manicures will be always trendy but I have to admit I would be inclined to wear a different one and a pop of pink on my nails just like the new Essie Bridal 2015 Collection is offering it would be so me. Take a look after the jump and choose your favorite bridal nail polish of this season.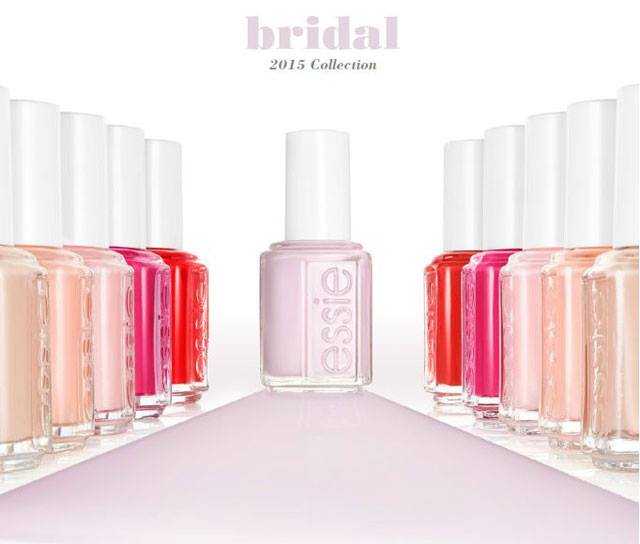 Availability
U.S. Launch Date – 26 March 2015 online @essie.com
International Launch Date – April 2015
Essie Bridal Spring 2015 Collection
Ready to commit…to color? leave the mani and pedi of your dreams to me. from proposal to honeymoon, I've got the perfect shades for your happily ever after.
Essie Bridal Nail Polishes 2015 – $8.50
Tying the Knotie – sheer floral pink
Hubby For Dessert – sheer candied lilac
Worth the Wait – coral-kissed pink
Brides to Be – soft-spoken caramel blush
Brides No Grooms – bachelorette bright pink
Happy Wife Happy Life – radiant red orange
Essie Bridal Classics Spring 2015 Collection
"Let my essie shades make your special day sheer perfection" -Essie. In the spirit of something old and something new, essie has borrowed from our extensive color catalog to present six of our most iconic sheers – among essie's most popular bridal looks – alongside our newly launched bridal shades.
Essie Bridal Classics Nail Polishes 2015 – $8.50
Adore-a-Ball – sheer soft pink
Allure – seductive sheer with a natural finish
Sugar Daddy – sweet pink
Ballet Slippers – an award-winning, best-selling classic pale pink with a sheer finish
Mademoiselle – classic grown-up pink
Vanity Fairest –  shimmery and sheer pastel pink
Essie also launched two Bridal nail polish sets for spring 2015 and each one of them contains a couple of the new shades featured in both Essie Bridal 2015 Collection. These sets are currently available at Nordstrom and online @nordstrom.com so check them out bellow.
Romantic Brights Set – $20.00
First Base Base Coat – color-adhesive nail primer
Hubby For Dessert – sheer candied lilac
Brides No Grooms – bachelorette bright pink
Blanc – snowy white
Good To Go! Top Coat – rapid-dry coat with brilliant shine
Lovely Sheers Set – $20.00
First Base Base Coat – color-adhesive nail primer
Tying the Knottie – sheer angelic pink
Worth the Wait – coral-kissed pink
Blanc – snowy white
Good To Go! Top Coat – rapid-dry coat with brilliant shine
Enjoy more photos…