Hello beauties!
I received Essence Soft Touch Mousse Make-Up the other week, as I'm lately on the look out to replace my go-to mousse foundation which is Max Factor Whipped Creme as it has been discontinued for a while. I don't have any skin problems so I'm just looking for a simple foundation with an airy or mousse-like formula that will be easy to apply with my fingers and will give me a matte or semi matte finish.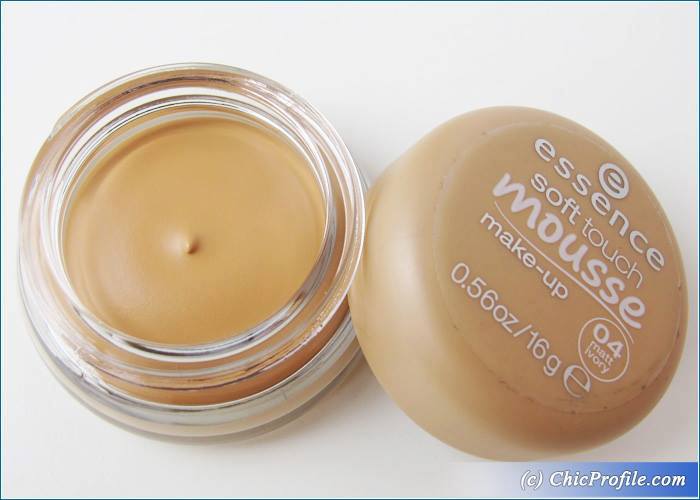 Where to buy:
Romania – Now at Prestige Boutique (blv. Iuliu Maniu nr 59) and online @boutique-produsecosmetice.ro , @emag.ro
International – Now at Muller and local drugstores
Essence Matt Ivory (04) Soft Touch Mousse Make-Up (21.70 Lei / €3.75 for 0.56 oz / 16 g) is just the right shade for a light skin tone girl like me. It comes in this small see-through glass jar and has a nude plastic top.It's quite a simple product, nothing sophisticated about it….do remember it's a drugstore foundation though.
It's easy to work with, I personally like to use my fingers to apply the product on my skin and in cases of mousse-like formulas I think this is the best way to do it. It has an airy, mousse-like formula that feels a little bit powdery to me so considering I'm a combination skin type I for once, like to skip the powder step.
It's applied easily and evenly, without leaving any lines or appearing cakey, on the contrary it gives a natural, matte finish. It provides a natural, very sheer coverage, that evens out my skintone but if we were to talk about concealing any skin imperfections I wouldn't count on it.
I like to wear it on a daily basis, as the most simple method of makeup, just lay on a thin layer after I moisturized my complexion and applied a makeup base. It doesn't do more than evening out my skin color (I have some redness around my nose) and it lightly conceals the area underneath my eyes (I did test it without any concealer previous applied) so the final result is a matte and natural looking complexion.
It feels incredibly lightweight on the skin, I feel so comfortable like I wouldn't be wearing any makeup at all…probably also because it gives such a sheer coverage.
The first time I tried this Essence Mousse Makeup there were 30 degrees Celsius outside and I went for a 7 km walk and when I got home I notice that my makeup was still in place with a slightly shine on my T-zone. As I did not applied any loose powder to fix the product I was totally happy with the result, but on a daily basis I would still like touch up with a thin layer of powder.
It lasted on me for about 5 hours until I noticed how it slowly started fading around the extremities and around my nose. So I would say, as I didn't have any high expectations from this product that I would wear it during day time or on a casual weekend when I don't want a full face makeup, just a bit of a mousse makeup to give me a fresh look and mattify my complexion for a few hours.
Enjoy more photos…