Hello ladies!
I'm getting super excited over Dior Spring 2017 Makeup Collection but I bet you can tell since I'm blogging my third article on this subject. The first look at Dior Spring 2017 got me totally by surprised as I'm trying to get into that holiday mood, now when all the holiday 2016 collections are coming up. Somehow we all knew that with the presentation of Dior Spring Summer 2017 Fashion show we were going to have a sneak peek at Dior Spring 2017 Makeup Collection as well, but I didn't imagine it will be so beautiful. I believe the collection will be called Color Gradation as all the new makeup products are presented in gradient shades. It's just the perfect transition from winter to spring and Dior made that happen in this new collection. Even though I posted photos earlier on Instagram I just couldn't help re-posting from Anastezzziya's Instagram as she brings so many new info about this collection.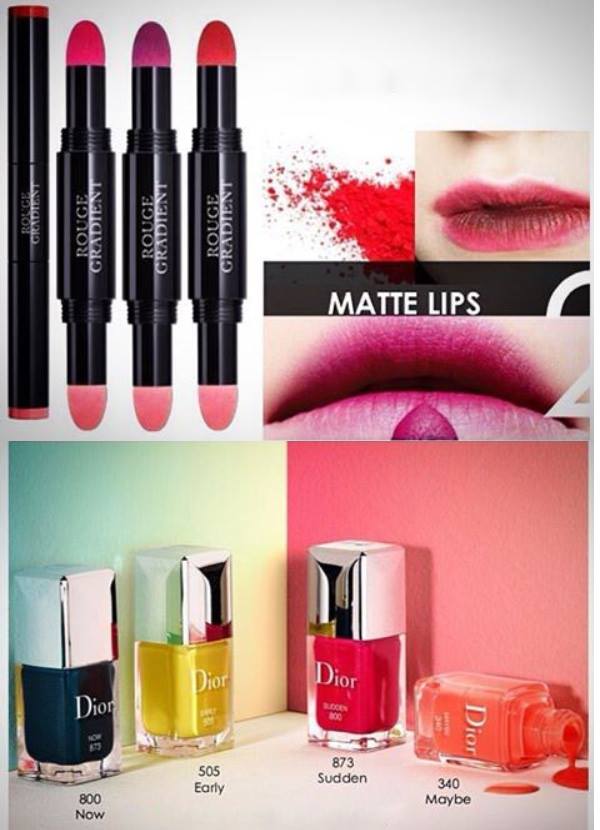 Availability
U.S. Launch Date – January 2016
Dior Spring 2017 Makeup
I bet the newness of this season will be the gradient lips which can be achieved easily with Dior Rouge Gradient Lipstick that comes in three shades. The more I see of this collection the more hooked I'm on new products. I'm still keeping Dior Colour Gradation Palette in Coral on my wishlist along with Diorskin Nude Air Colour Gradation in Rising Pink, but I'll also add the new Pink Shift Blush along with a couple of shades of Dior Addict Lipstick. Here's everything I know so far about this collection and I'm super happy to share all the info with you.
Diour Colour Gradation Palette – Limited Edition
001 Blue Gradation
002 Coral Gradation
Dior Nude Air Colour Gradation – Limited Edition
Dior Blush – Limited Edition
Dior Addict Lipstick
430 Peach Twist
559 Rose Twist
459 Coral Twist
760 Fuchsia Twist
850 Pink Twist
Dior Mono Eyeshadow
DiorShow Pro Liner
DiorShow Iconic Overcurl Mascara
Dior Vernis
340 Maybe
505 Early
800 Now
873 Sudden
Enjoy more photos…