Hello beauties!
I was so excited to see the new Dior Metallics Fall 2017 Collection in person that I couldn't leave Dior boutique without buying something. Dior Rouge Dior Hypnotic Matte is one of the six Dior lipsticks (swatches) featured in this collection. I absolutely fell in love with the color at first swatch even though I promised myself no more nudes. I went home and put it on my lips straight away. I used it a couple of times ever since and I still have it on y lips as I'm writing this review.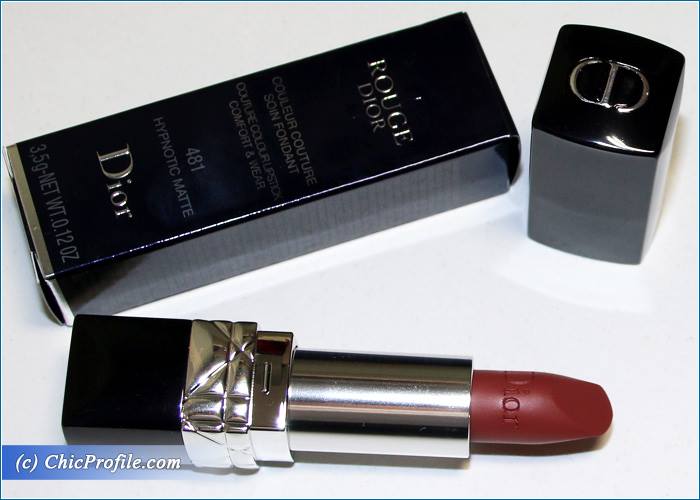 Where to buy:
U.S. – Now at Nordstrom, Sephora
UK – Now at Selfridges, Harrods, Dior boutique in Covent Garden (London)
Dior Rouge Dior (481) Hypnotic Matte Couture Colour Lipstick ($35.00 / £27.50 for 3.5 g / 0.12 oz) is officially described as a a fervent rosewood. I see it as a medium rosy-brown with a soft semi-matte finish. It has a great pigmentation, being a rich and intense color. It's opaque on the lips but I won't say the finish is super matte. On my lips it tends to settle more to a semi-matte finish rather than a truly matte one which I absolutely like.It glides easily across the lips without dragging or pulling and delivers a rich color. It's opaque in one swipe without creating the impression or dry lips. The consistency is creamy but without feeling dry so it's super comfortable on the lips. The formula is enriched with natural hydrating mango butter-along with Aroelat Samphira for its revitalizing action.
I wore this color a couple of times already and I never felt any dryness. After a few hours wear I did notice it emphasizes my lip lines but the color is still there. I had about 5 hours wear with this formula. Even though I ate or drink the color remained on my lips. I also used a lip liner as a base for a long lasting effect. If you tend to eat more greasy foods then the color will be slightly diminished so you need to retouch it.
Check out my Instagram for more swatches of Dior Metallics Fall 2017 Collection. 🙂 I'll be posting more reviews in the upcoming days.
SHOP THIS POST
Enjoy more photos…