Hello beauties!
I guess you already know by now that I purchased the limited edition Dior Rose Garden Eyeshadow Palette (unboxing video) featured in Dior Glowing Gardens Spring 2016 Collection (info, visuals) right before Christmas as a present to myself. I also got the other Dior 5 Couleurs Glowing Garden Palette in No.031 Blue Garden (review). Once again, I decided to buy this makeup palette for its gorgeous floral pattern and for review purposes, so I can see for myself if it's really high quality and you guys should have it or not when it hits counters in your country.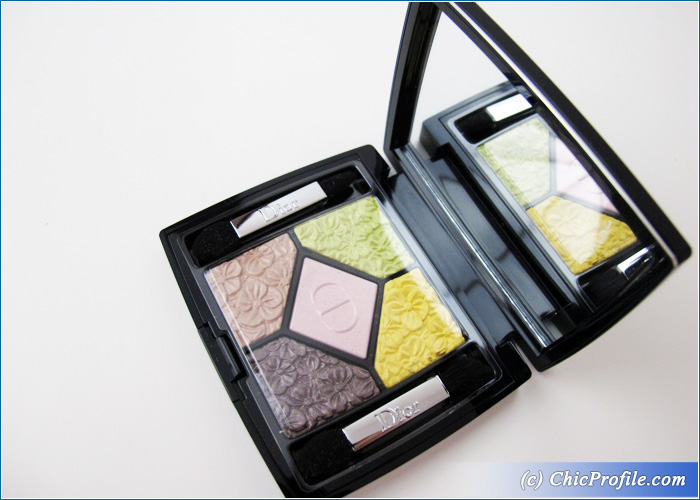 Availability
U.S. – Now at Nordstrom, Macy's
UK Launch Date – 20 January 2016
International Launch Date – late January 2016 at Sephora
Dior Rose Garden (451) Eyeshadow Palette ($63.00 for 0.15 oz.) is mix of five springy eye shadows, with a gorgeous floral pattern, that also comes with a two mini eyeshadow applicators, one is a duo-sponge applicator while the other also has a small brush included but it doesn't do an impressive job.
Just like in the case of Dior Blue Garden Eyeshadow Palette (review) I found that these eyeshadows have nothing to do with high quality, as I would have expected a better, long-lasting formula and a more intense color coverage. I do admit the eyeshadows from this palette did last a little bit longer than the others, as I had around 7 hours wear (with an eyeshadow primer). When I wore them without a primer, they tended to sheer out after 4 hours wear and they also crease, so after 7 hours wear I had almost no distinguishable color on my lids.
Dior Rose Garden #1 is a light lemon-green with warm, yellow undertones and a pearl finish. It had a medium color payoff, with a slightly dusty formula. It applied well onto the lid but as blended the color sheer out. The more I blended the less color I had, and I mean it didn't took some seriously blending, just swiping my brush back and forth 2-3 times.
Dior Rose Garden #2 is light-medium yellow with bright, warm undertones and a frosted finish. It had semi-opaque color coverage, medium pigmentation so to say and with a dusty formula. Applied over an eyeshadow primer tended to have a more even color coverage when applied on the lid. It's just a yellow hue, probably meant to appear like a wash of color for a soft spring makeup .
Dior Rose Garden #3 is light icy pink with cool undertones and a metallic sheen. This is my favorite color from the entire palette, just a soft wash of metallic pink. With a semi-opaque color intensity and a dusty formula, this shade as well tended to sheer out when blended.
Dior Rose Garden #4 is a medium taupe with fine purple reflexes, cool undertones and a light frosty sheen. Swatched without a primer it looks more like a brown rather than purple. This one had a soft, smooth texture with just a bit of dryness to it. It is the darkest color in the palette and actually the most buildable one, as I managed to get a decent color opacity even after blending.
Dior Rose Garden #5 is a very light, warm-toned muted beige with a satin sheen. It had a medium color coverage, being slightly close to my skin tone. The texture was soft and smooth and less dusty.
Enjoy more photos…