Hello pretties!
Are you ready to discover Dior Metallics Fall 2017 Collection? We've been teased by Peter Philips with photos on his Instagram for weeks now and I honestly was curious to see what this collection has to offer. I mean I heard about the new Dior Metalizer Eyes & Lips being the star product of Dior Fall 2017 Makeup line but I wanted the full story.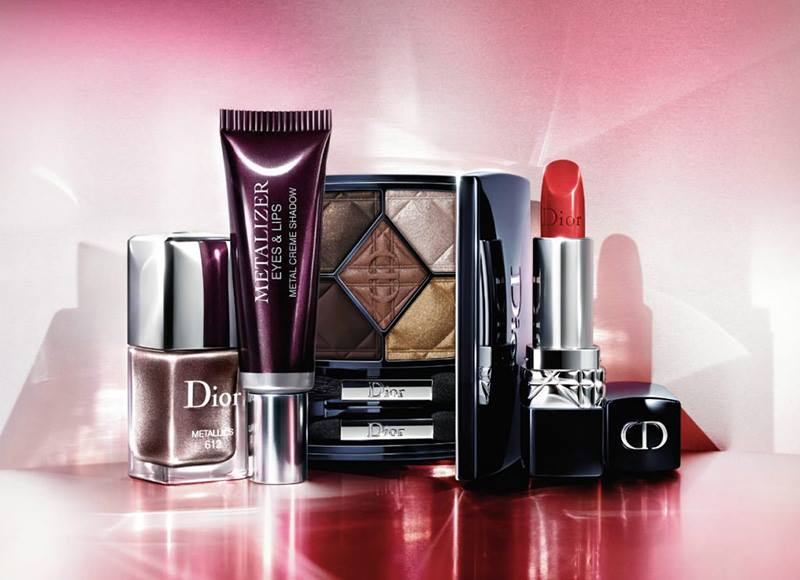 Availability
U.S. Launch Date – August 2017 at Nordstrom, Sephora
UK Launch Date – late August / beginning September 2017 at Selfridges
International Launch Date – September 2017 at Sephora
Japan Launch Date – 4 August 2017
Dior Metallics Fall 2017 Collection
Dior Metalizer Eyes & Lips – New – £17.00/ $25.00

These new squeezable tubes host a 2-in-1 product that can be used as a creamy eyeshadow or a lip gloss. They have this metal finish, whit a gorgeous color payoff and a quick-drying formula. I actually have seen swatches of these way back in spring and I had the chance of purchasing them way earlier so I really feel sorry I missed them.
Shades:
068 Silver Shock
498 Green Magnet
528 Platine Fusion
548 Copper Power
678 Bronze Tension
898 Plum Reflection
Dior Diorshow 5 Couleurs Palette – £45.00

Hypnotize – earthy, warm, gold and chocolate tones
Magnetize  – silver-grey platinum shades paired with a sparkling charcoal.
Dior Diorshow Bold Brow- New
Featuring a mousse-serum formula is infused with nourishing vitamins (E, B5, and B8) that help thicken brows instantly and over time, this new tinted brow mascara is something that I'm looking forward to trying out. I'm actually testing right now something similar from Eyeko and I'm really impressed. It will be available in three shades.
011 Light
002 Dark
021 Medium
Dior Diorblush Colour & Light – New – £32.50

This one is a new entry and combines a blush with a matte finish and a radiant highlighter. They have a creamy and light formula and they will be available in three shades: pink, coral and brown.
001 Plum Shimmer
002 Peach Glow
Dior Rouge Dior – $35.00 / £27.50

426 Sensual Matte – nude beige;
481 Hypnotic Matte – rosewood; (REVIEW)
996 Eccentric – a rosy brown
Enigmatic – wine-colored red;
861 Sophisticated Matte – raspberry red
999 Metallic – the iconic orange red with metallic finish.
Dior Le Vernis – £20.00

Metallics – purple grey
Paradox – neo-classical green
Enigma – champagne
Sophisticated – red
Enjoy more photos…