Hello pretties!
Autumn has officially settled in, so every makeup addict and beauty lover knows is about time to start talking Christmas collections. So today I'm bringing you a first look at Dior Holiday 2016 Collection which will be launching in stores next month. I'm talking about Dior Holiday 2016 Gift Giving Collection if I may name it this way, because as many of you well know by know, Dior is releasing every year a bunch of limited edition palettes for face, eyes and lips, as well as makeup and brush sets, along with skincare and fragrance gifts. It's purely a joy to discover all these new Dior Holiday 2016 Couture Palettes along with the other Dior Christmas 2016 offerings so follow me after the jump and take a closer look. The limited edition makeup collection Dior Splendor Holiday 2016 was blogged last month so I'll return to that when I'll have the full info.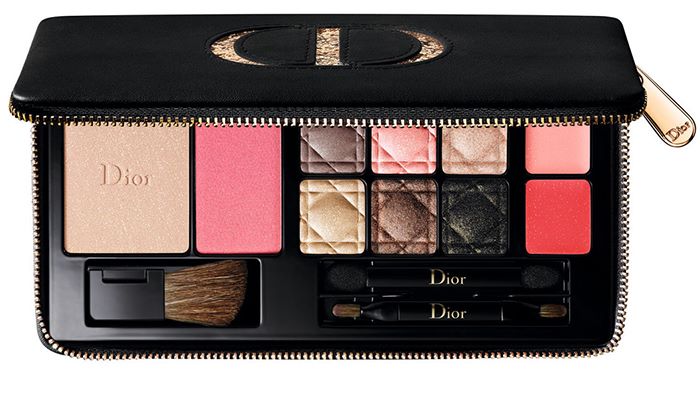 Availability
International Launch Date – October 2016
Dior Holiday 2016 Beauty Collection
Above there's the new Dior Holiday 2016 Couture Collection which represents a palette for face, eyes and lips with two lip colors of Rouge Dior and Addict Gloss, six eye shadows, a peachy Diorblush and Diorific Face Powder. I'm guessing this one should retail for about $90.00.
Another palette is Dior Holiday 2016 Couture Collection for eyes and brows, which this year features three Dior Shadow colors and two shades for brows. Last year in Dior Holiday 2016 Couture Collection (info, photos) there were two palettes for eyes and lips, combining three eyeshadows and two lip colors, which I might say they didn't look to appealing to me because of the mixture between the powder eyeshadow formula and sticky feeling of a lip gloss. This year I'm definitely interested in Dior Couture Collection palette for eyes and brows, as powder formula products in the same palette means as yay for me. 🙂
Other limited edition makeup sets reveal a Dream Body Cushion Powder, Blush Star Lipstick, classic eye shadow palette and a lengthening mascara, plus a black Dior makeup pouch.
I like a lot the pink glossy pouch of this limited edition Dior Holiday 2016 Beauty Set which contains: Diorskin Forever & Ever Wear extreme perfection and hold makeup base SPF 20, Ultra Creamy Powder (8 g), Capture Totale Dream Skin (7 ml), Capture Totale Le Serum (7 ml), Diorshow Iconic Over Curl Mascara (4 ml), Lip Maximizer Gloss (2 ml).
You can check out some of the rest Dior Holiday 2016 beauties in the photos bellow… Enjoy!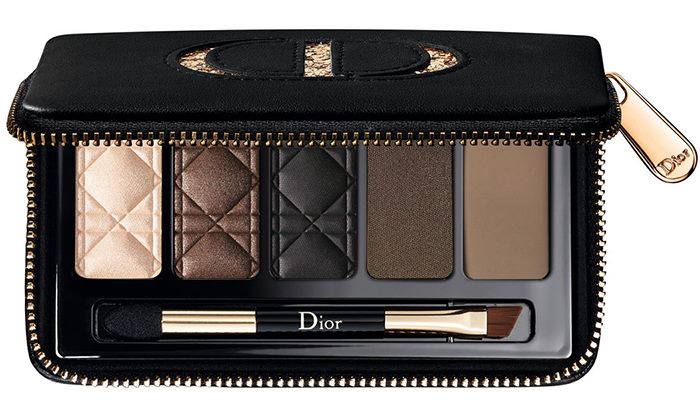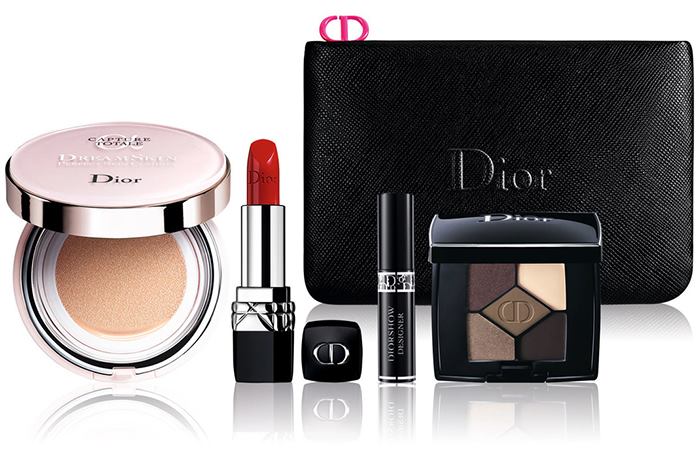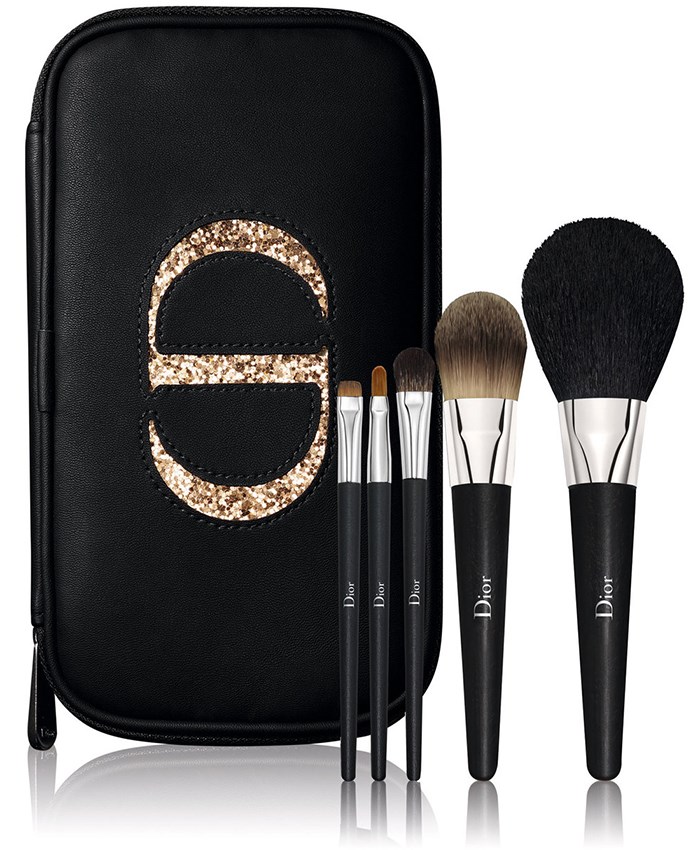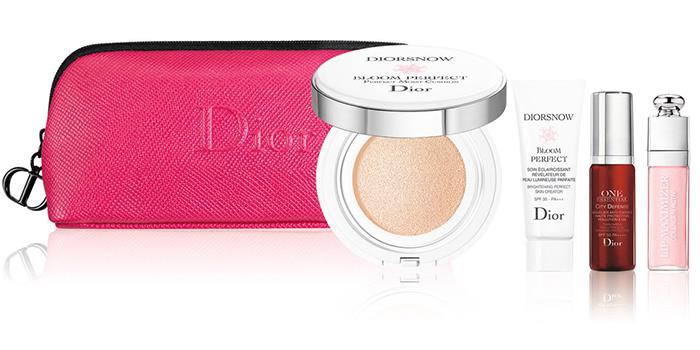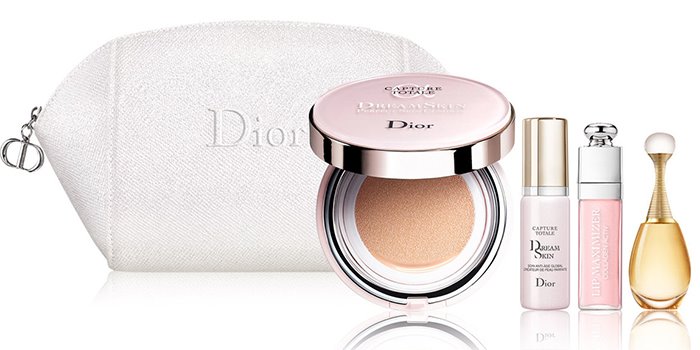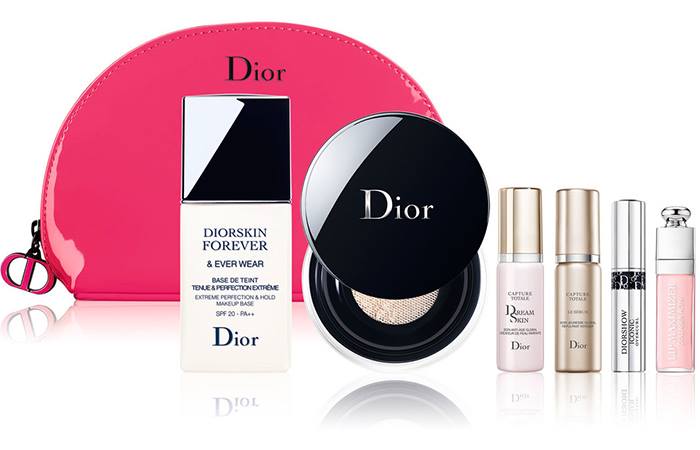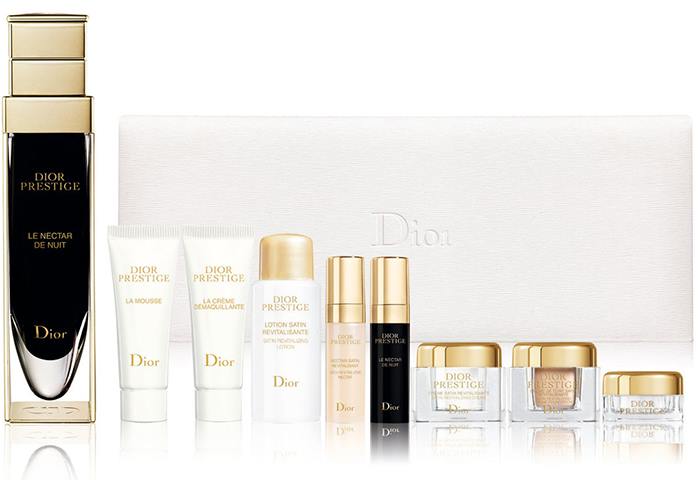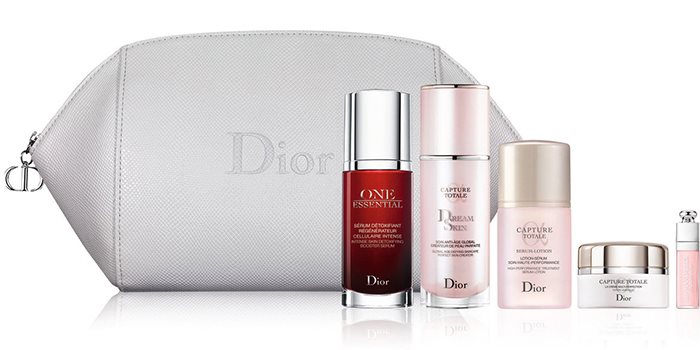 hol