Hello beauties!
Dior Diorific Matte Fluid is a new product launching in limited edition as part of Dior Splendor Holiday 2016 Collection (color story, photo) later this fall. I've said it before and the more I find out about Dior Splendor Christmas Collection, the more convinced I'm that I'll go broke when it will hit counters. Apart from those gorgeous Dior Smoky Sequin and Dior Precious Embrodery Palettes you saw on my Instagram yesterday, I'm falling in love with these wonderful shades of Diorific Matte Fluid Lip & Cheek Velvet Colours.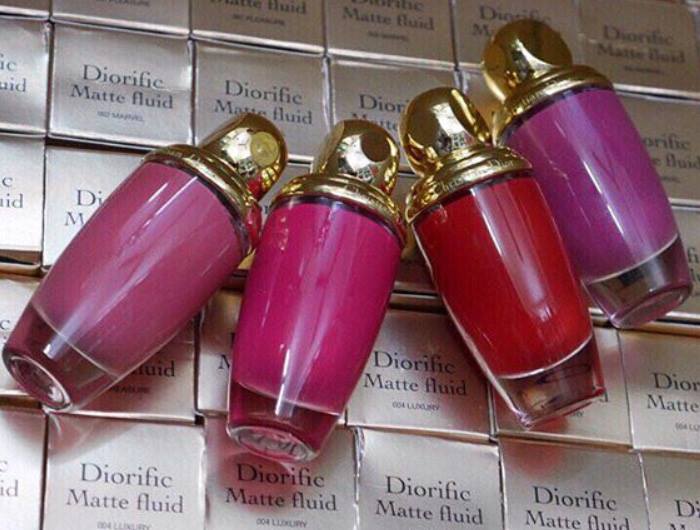 Availability
U.S. Launch Date – October 2016
International Launch Date – beginning November 2016
Romania Launch Date – November 2016
Dior Diorific Matte Fluid for Holiday 2016
They seem to have some kind of liquid formula with a matte finish while showing an intense pigmentation and color payoff. I'm pretty sure from these Diorific Matte Fluid swatches that they will look flattering and irresistible on the lips but I'm quite curious to see them on my cheeks. I'm a combination skin type so when it comes to matte finish cheek colors, definitely count me in, especially when I'm taking about a luxury 2-in-1 Dior lip and cheek stain. From the four available shades of 001 Pleasure, 002 Marvel, 003 Treasure, 004 Luxury I won't be picking the last one (probably I'll change my mind at the counter), an intense, vibrant red which is not exactly my color since I'm crazy over pinks and plums.
I must tell you I'm so excited about these new Diorific Matte Fluids as I haven't been in a while for any Dior lip products. The entire collection is inspired by sequins, so this means shine and glamour. By the way, I hope you haven't miss my Instagram photo of the new Dior Sequin Highlighter.
Are you excited about these products as much as I am? Will you be getting anything?
Enjoy more photos…