Hello sweeties!
I've been postponing this review for weeks now due to the holidays and all, but I'm happy that I can give you a closer look at Dior Diorskin Nude Air Colour Gradation in #002 Rising Pink. This is actually one of the two limited edition shades (the other one is Radiant Nude) launching later this month as part of Dior Spring 2017 Colour Gradation Collection (info, photos) and it was the first product that got my attention. I absolutely love the pink color gradation and I've been meaning to give it a try and see if it resembles a little bit the Guerlain Meteorites Powder Compact. Actually the name of this product is quite a long one as you can see in the packaging photo bellow, so here it goes… Dior Diorskin Nude Air Colour Gradation Blurring Powder Soft Glow and comes with a mini kabuki brush. To tell you the truth the brush has made quite an impression on me, as I got to use it everytime I apply the powder and it's really great.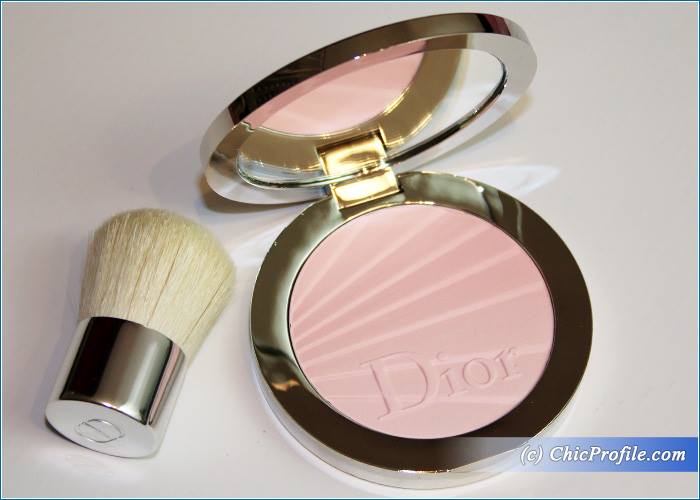 Availability
U.S. Launch Date – January 2017
International Launch Date – February 2017
Dior Rising Pink Diorskin Nude Air (12 g / 0.42 oz) comes in a very light pink with a gradation towards a white rosy shade and gives your skin a beautiful soft glow with a semi-matte finish. I honestly loved this powder from the first touch, first application…as it instantly mattified my complexion, while blurring small skin imperfection and gave a luminous and natural finish overall.
I used it mostly without a full face makeup on, just after I applied my moisturizer. I like to use the small kabuki brush and buff the powder on to my complexion and it instantly makes the difference on the skin. While it mattifies my complexion it also makes sure to enhance that natural glow of my skin with a blurring veil of colour. I apply it on my T-zone to catch the light and blur imperfections. The rosy color gives such a fresh and luminous finish overall and my complexion remains shine-free-zone for the entire day.
I absolutely love it to wear it on its own all over the face as well, but also to highlight gently my cheeks after I've applied my foundation. It's so much more brilliant over a foundation and ads even more luminosity and veil of freshness.
I personally love it as it is perfect for my light skin tone and goes so well as a finishing powder or as a gentle highlight. I feel that it gives me that feeling or spring, freshness and natural glow. It does blur imperfections in a way that it minimizes my pores and evens out my skin tone a little bit, while it brightens my under eye area at the same time.
I can choose to swirl my brush into the pan and mix the colors or I can just use the more vibrant rosy shade from the top if I'm wearing foundation or just keep it natural with the lightest color. It has a good color payoff but it was a bit hard to see the difference of swatches on my light skin. It doesn't have such a smooth finish to the touch but applies evenly and easily across the skin.
Enjoy more photos…