Hello beauties!
Last month I attended Debenhams Christmas in July 2017 event where I had a sneak peek at all the upcoming offerings. I got to discover new brands, see some of the Christmas sets, meet new people and socialize. On that day, I took you with me by posting on Instagram so I hope you didn't miss it. I came home with a couple of gifts that I won at some amazing vending machine, or where presented to me by the brands.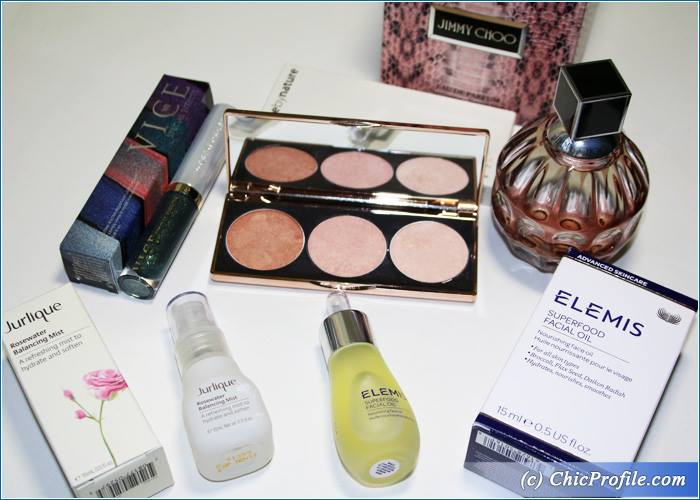 Where to buy:
UK Launch Date – mid September 2017 at Debenhams
Even though I was more interested in the beauty section I took a look at the fashion and home sections as well. Amazing products and gift sets are coming up for Christmas at Debenhams, so you will plenty to choose from. The hunt for the perfect gift will begin somewhere in early Fall, towards the end of September. Beauty brands will be offering a variety of gift sets and limited edition products.  I'll be opening the holiday shopping season earlier this year.
One of the nicest surprises was in the fragrance section. I entered the room where a variety of perfumes where presented in three categories. After you set your category and got a representative fragrance, you could engraved with your name or initials. This was a such a wonderful idea for a personalized gift…but what can I say… I'm selfish! 🙂 So I decided to have the Jimmy Choo Eau de Parfum (£75.00 for 100 ml) engraved with my name.
Entering the makeup and skincare section I first stop to meet Elemis. I admit I'm new to this brand so it was a real pleasure to get to know the products better. I got Elemis Superfood Facial Oil (45.00 for 15 ml / 0.5 fl oz) to try at home and I've been using it ever since. As a combination skin type, I always kept my distance from facial oils but this is actually the second one I've tried since I moved to London.
It is a natural blend of highly concentrated plant-based superfoods that deeply nourishes and hydrates. Anti-oxidant and omega-rich Broccoli, Flax Seed and Daikon Radish feed the skin for a healthy, radiant glow.
I will review some of these products separately later on and Elemis Superfood Facial Oil is one of them. 🙂
My next stop was at Urban Decay where I have to admit that I knew all the products. Unfortunately they didn't bring any Christmas goodies to show us but I would have loved a preview. I got the new Vice Special Effects Lip Top Coat (15.50 for 4.7 ml / 0.16 fl oz) in Circuit, a dangerous sparkling green. You know me, not very keen of green shades, especially for lips but I'll tell you more in my upcoming review.
Discovering the world of Jurlique products was fascinating. They were presenting their new Jurlique Christmas 2017 Gift Sets along with other skincare products. The mini size Jurlique Rosewater Balancing Mist (£24 for 100 ml) came home with me and keeps on spending most of its days in my bag so I can use it on the go. While I'm at home I like to set my makeup with this refreshing rosewater mist. I like to keep with close with me when I go out so I can spritz this rose scented mist on my face and get a cooling effect with an instant hydrated feeling. It's also a blessing during the hot days. 🙂
It also possesses anti-oxidant properties and is suitable for normal and combination skin.
Last but not least I got Nude by Nature Highlight Palette (25.00 for 3 g / 0.11 oz) which I didn't pay too much attention at first. One day, out of the blue I simply included it in a casual, daily makeup look among other products. I loved it ever since! I used the shades as eyeshadows as well for a glowy effect. It deserves a separate review where I can show you swatches as well.
SHOP THIS POST
Enjoy more photos…