Hello beauties!
Colour Pop Birthday Suit Super Shock Cheek and So Quiche Super Shock Eyeshadow were the first products from this brand that I got to try. I have been using them for months now, since last November to be more specific and I got them as a gift from my dear friend Jane from BritishBeautyBlogger. She told me she absolutely loves these shades so I was super excited to try them as well. At first I must say I was a bit skeptical about the brown-olive eyeshadow but when I start wearing it, the story totally changed.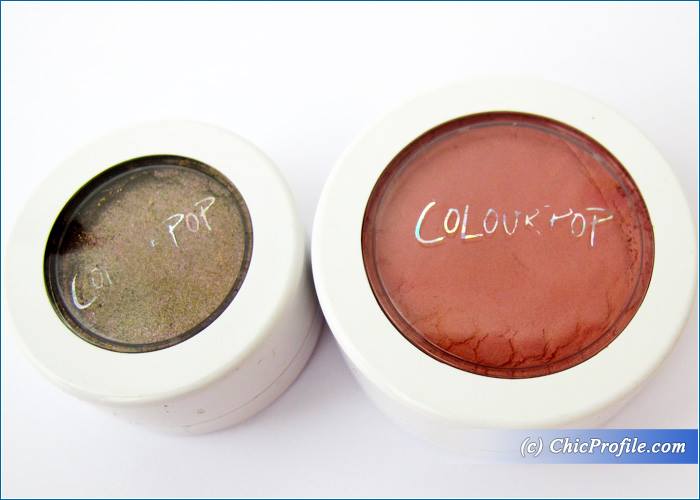 Where to buy:
Now @colourpop.com
ColourPop Birthday Suit Super Shock Cheek ($8.00 for 0.15 oz.) is officially described as a "neutral pink with a satin finish." I see it as a dirty medium pink with slightly warm undertones and a silver micro-shimmer.
The finish is described as satin but I personally find the shimmer not that noticeable on the cheeks. I would say that the finish goes more towards a soft semi-matte, especially when I blended on the skin. The texture is so light, easily blendable, doesn't emphasizes pores and gives a fresher appearance. It looks quite subtle, just like a soft flash of color on my light skin tone so I like to wear it mostly during the first part of the day.
I absolutely love the consistency and texture, a soft cream-based but without that slip that most creamy blushes have. The color is said to be easily buildable, especially when you are using your fingers to apply the product…in my case I would have to say that as a result I got a semi-sheer, washed out color. Using a synthetic brush will definitely improve the pigmentation.
I got about 8 hours wear with this color before I noticed signs of fading.
Fingertips will provide the highest amount of coverage. Brush suggestions: Use a flat synthetic cheek/ foundation brush or a short duo fiber brush; flat synthetic brush will give more coverage and the duo fiber brush will give a more sheer, air brushed effect. WHEN FINISHED: Close that sucker up tight! Don't leave the jar opened for long periods of time; you may lose some of the magic that makes the Super Shock Cheek so amazzzing. Colour builds from natural- looking flushed looks to more intense bright looks. … Build to your heart's desire!
Colour Pop So Quiche Super Shock Shadow ($5.00 for 0.07 oz.) is described as a "soft olive with … gold and pink violet glittery duochrome metallic finish." It's a brown based color with a gold, pink and violet shimmer and highly metallic sheen.
It has a creme powder formula, with a soft, somehow elastic-like texture that goes on smoothly. You can apply the shade with your fingers if you like and you'll get a decent pigmentation. Even when swatched without a primer, I got a nice color payoff. I did get some minor fall out when I applied the eyeshadow with a brush, just a bit of that shimmer on my cheeks. I got about 10 hours wear with this color without creasing.
A soft olive with a highly reflective gold and pink violet glittery duo chrome metallic finish…there are no words in the dictionary to describe this. Not even urbandictionary.com .  Aka: this shade is hotter than hot – the F**king Queen of shadows.
Enjoy more photos…