Hello pretties!
Illy and Collistar, two symbols of Italian excellence have joined forces to create a unique and amazing makeup collection. Collistar illy Collezione Caffe FW 2017 features limited edition items in shades inspired by the famous Italian coffees.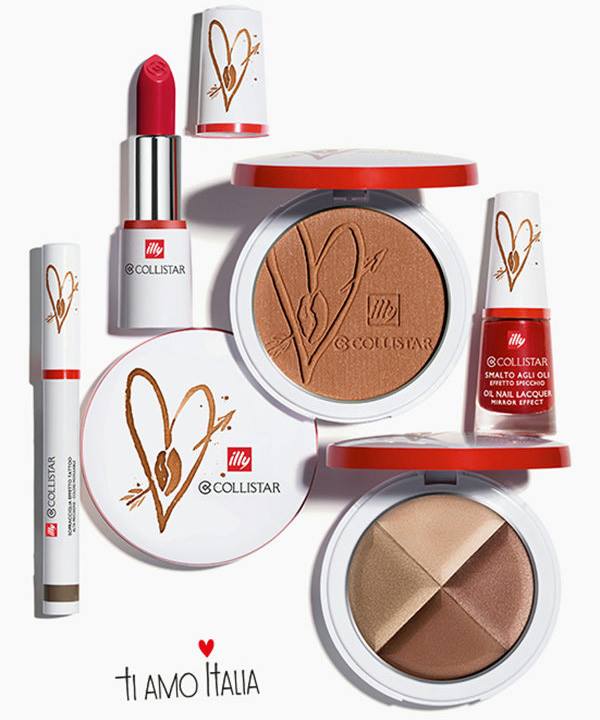 Availability
International Launch Date – Now @collistar.com | September 2017 at Sephora
Collistar illy Collezione Caffe Fall Winter 2017 Collection
Sculpting Effect Bronzing Powder – Limited Edition

Is a compact powder that releases colour instantly and blends easily. Perfect both for giving the face a complexion that is bright and tanned all year round and for sculpting the features, cleverly using light and shade effects. Light, ultra-fine and silky, it moisturizes and protects thanks to the Lauroyl Lysine contained in the formula. The heart and arrow design that symbolizes the Collezione Caffè is by Max Petrone, a talented young painter on Italy's art scene.
Shades:
No.1 Medium Roast – with a brightening effect
No.2 Dark Roast – with a satin effect
Collistar illy 4 Eyeshadow Palette – New & Limited Edition
Four eye shadows in four shades with different textures that range from mat to satin and pearl-effect. Smooth, long-lasting, and ultralight, the powders let you overlay and combine colours in an infinite variety of ways. The colours are the browns of lightly toasted coffee beans, sometimes appearing softer, sometimes appearing deeper and more intense, but always bright, soft and creamy. You can almost smell the coffee as the powder envelops you in its sensual embrace. The palette comes with two applicators.
No.1 Caffe Freddo
No.2 Caffe Caldo
Tattoo Effect Eyebrows – New & Limited Edition
Making up your brows has never been so quick and easy. In one simple step, this handy 'pencil' defines, grooms and finishes off the brows to perfection. It gives you as much colour as you like, for flawless make-up which stays in place all day long. The creamy, velvety heart of the tip allows you to make the results as intense as you like, creating a natural or bolder look. The result? Sculpted, defined eyebrows with a professional look. Provides high-precision results, just like a tattoo. It naturally colours the areas where there are fewer hairs. No need to sharpen.
No.1 Cappuccino
No.2 Moka
No.3 Ristretto
Professional Eyeliner – New & Limited Edition
Professional Eye liner, a single, deep, sensual, full colour. A particularly intense shade of coffee that emphasizes the eyes by making them magnetic, with the help of the very thin brush with bristles. And with the guarantee that the line will remain full, bright and perfect the whole day long.
Puro Lipstick – New & Limited Edition
Five new colours have been created for Puro Lipstick, with the names of everyone's favorite coffees. The shades range from red to brown and flaming red of espresso to intense mocha. Pure and total colour, provided by the exclusive smoothing tensor agent that the product contains, combined with moisturizing, nourishing and anti-age hyaluronic acid, rice wax, retinol and vitamin E. A formula ensuring a perfect long-lasting effect with full and smooth lips. Everything thanks to a "lifting" effect, a prolonged moisturizing, protective and anti-age action.
No.73 Cappuccino
No.74 Caffe Macchiato
No.75 Espresso
No.76 Moka
No.77 Ristretto
Oil Nail Lacquer – Limited Edition
The most delicate color? Latte macchiato. The darkest brown? Ristretto…the same colour as a coffee bean. Then, there are caffè macchiato, espresso and moka, all shades of red with a dash of mocha. They all have in common the sublime texture of the oil, full of body and color. The mirror effect and a brilliant finish is something you never seen before. The special flat rounded applicator brush with 320 bristles gives a flawless application.
No.316 Latte Macchiato
No.317 Caffe Macchiato
No.318 Espresso
No.319 Moka
No.320 Ristretto
Enjoy more photos…