Hello beauties!
Cleof Cosmetics Waterproof Pressed Glitter Eyeshadow Palette came into my possession over a month ago. I gave you a quick peek on Instagram and recently I posted a video with live swatches as well. If you like glitter and sparkling colors then you are in for a treat as this palette holds 24 pure pressed glitters. You can use these glitters in different ways, not only packed over your eyeshadow. There is a great variety of colors here from teal to bronze, peachy, purple and pink to white, silver or green.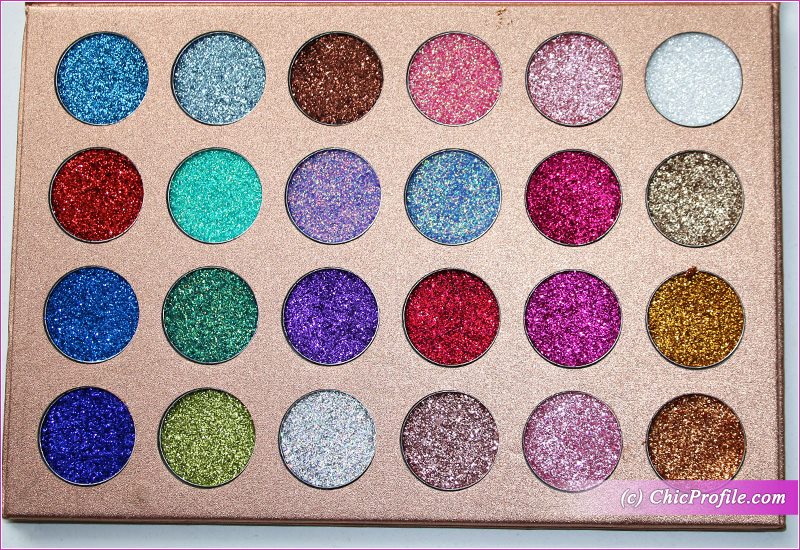 Availability
U.S. & International – Now at Cleof.com & Amazon
Cleof Cosmetics Waterproof Pressed Glitter Eyeshadow Palette Review
Cleof Cosmetics Waterproof Pressed Glitter Eyeshadow Palette ($29.95) features 24 shades of loose glitter compacted into a gel like form. So basically instead of going out and buying 24 small jars of loose glitter you can check out this palette and have them all in a compact form. It's definitely easier to store and put it in your makeup case if you want to take it with you when you travel.
On the back of the palette you have all the ingredients listed, but since they were printed in silver letter it was hard to photograph them. The second ingredient listed is Mineral Oil which brings me to talk about the formula of these pressed glitters. I actually wrote the ingredient lists after I swatch them, but I could tell at once that these were mixed with oil. They feel a bit oily to the touch, but also creamy and not chunky like most glitters.
At first I simply used my fingers for swatches and once you dip your finger into the colorful pan the pressed glitter will instantly transform into a loose glitter. Be careful not to get glitter all over you (I did) when you swatch them or even apply them. They look intense, like very rich pigment but they are so, so hard to swatch.
Trust me, that I put a lot of effort into these swatches. I want to mention that I swatched every color on bare skin, not over any eyeshadow primer or glitter glue, but for some shades I did 2-3 layers for the color to show. There's a huge difference in applying glitter on bare skin and over a glitter glue primer. When you don't use glitter glue the swatches tend to be very sparse, not show their true intensity or potential. So that's why I did my best to lay up to 3 layers for some of them. I didn't want to apply glitter glue to take swatches, because the entire process would just worn me down.
Even the next day, when I sat on my desk I still picked up glitter particles on my clothes. Now talking about waterproof, trust me…these will stick to your skin. I went to the bathroom and tried to wash out the swatches but until I used a soap I couldn't get ride of these completely. If you are not to skilled with applying and using glitter please be very careful with this palette.
It comes in a cardboard packaging, not very sturdy I'd say so make sure you keep it safe. I haven't dropped it on the floor yet, nor do I want to but I feel they could have done a better job with the packaging. To me it looks cheap, not so much travel friendly so make sure you store it better. On the other hand, you should consider that $30.00 brings you a lot of glitter and color options.
Make sure to pat on the glitter on your lid first and use a glitter glue or a tacky base. You can use it as an eyeliner as well, some have tried them over the lips but I wouldn't do that. Consider is still glitter and you will have fall out no matter what. If you apply it on your lips, you'd better get used to having glitter in your mouth as well (not a very cool sensation, is it?). Just keep it classic and apply it only on the lid or as an eyeliner.
The colors are as pigmented as you want them. If you want a loose color, more sheer and just a bit of sparkle then one layer will do. You can skip the glitter glue at this phase and pat it over your eyeshadow or cream eyeshadow. You can build up the pigmentation and coverage by adding more layers of color and use glitter glue as a base. Over glitter glue it will look pigmented and more compact so you'll get that full sparkle, twinkle effect.
A glitter makeup is so beautiful, looks amazing in the evening, makes your eye pop and definitely attracts attention. Especially now when the holiday season approaches, a touch of glitter on your eyelids will give you that special look.
I won't be describing every shade as I don't want to make this article longer than it already is. You can see for yourselves that you have a wide variety of colors. I personally like the pink and purple ones. You get rose gold, yellow, deep blue or green which I'm sure it will satisfy everyone's need for colors.
I like the feeling that they are creamy and smooth but they do feel a bit oily at the same time. During the application I get some fall out but in the end is just glitter so I would expect that. You can do your eye makeup first and then continue with the rest of the face so you can wipe off the excess glitter.
They last pretty well, but I personally didn't keep my glitter makeup on for more than 5 hours. I always applied it in the evening, went out and came back home in a couple of hours.
If you are fans of glitter or just experimenting with makeup, Cleof Cosmetics Glitter Palette is worth checking out. I don't use glitter so often but is good to have a selection glitters standing by for any sparkling makeup.
SHOP THIS POST