Hello beauties!
Get into that Christmassy mood with the new Charlotte Tillbury Holiday 2016 Makeup & Gift Sets. It's true that I'm seeing some permanent items in there and some repromotes as well but they are all so nicely packed in these super cute and luxurious gift sets that almost has the job for buying presents solved for you this season. There are plenty to choose from and they are the kind of products and colors that will suit everyone. Take a closer look!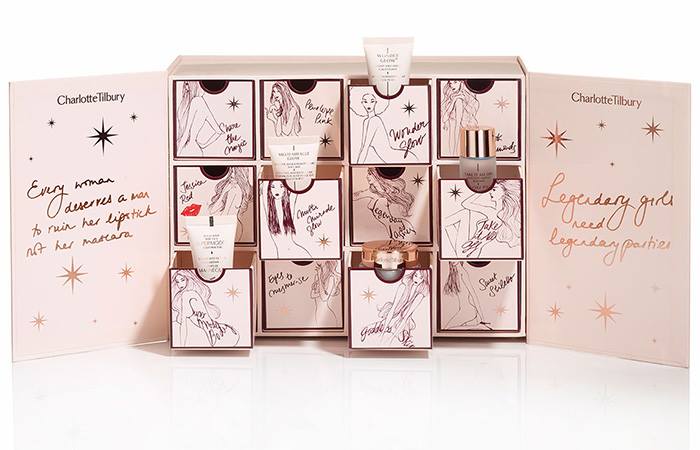 Availability
U.S. Launch Date – Now at Bergdorf Goodman, Neiman Marcus, Nordstrom
UK Launch Date – end October 2016 at Selfridges
Charlotte Tillbury Holiday 2016 Makeup & Gift Sets
Dreamy Look in a Clutch – Limited Edition – $128.00
The dreamy-look-in-a-clutch is everything you need to mesmerize all who behold you, and to make your dreams a reality this Holiday season. Inspired by the dreamy spot-lit beauty that supermodels possess. That flawless, poreless, airbrushed Supermodel dream skin that catches the light, and transports you to another realm! This look is a gorgeous, super-flattering, glowing, dreamy veil of makeup that suits everyone, and transforms the wearer from "gorgeous girl" to "goddess of the party." The Dreamy Look acts as a filter for the face, its like starlight bottled; giving you that heavenly, otherworldly dreamy perfection that attracts and enchants!
Includes:
NEW Legendary Muse Luxury Palette
Mini Legendary Lashes Mascara
Mini Legendary Eye Liner in Bedroom Black
Mini Legendary Lip Liner in Bitten Kiss
NEW Matte Revolution Hot Lips in Secret Salma
USB with EXCLUSIVE Dreamy Look tutorial
Mini Lipstick Trio – Limited Edition – $39.00
Charlotte Says: "A best-seller last year! These tiny, little lipsticks are perfect gifts, and also look incredible adorning your Christmas trees! I'm so excited to have my multi-award winning Matte Revolution in this mini range now too!"
Create the illusion of fuller, wider lips with these Matte Revolution mini lipsticks in three best-selling shades! Your lips will look lit from within. It's a trick Charlotte uses all the time on photo shoots, using lighting trickery, pigments and powders, and have been working for years to re-create this effect in the slick of 1 lipstick. Now everyone can create this full, matte lip effect in a long-lasting, buildable, hydrating formula — it's the matte lipstick of the future!
Shades:
Amazing Grace: inspired by Grace Kelly, a vintage tea rose.
Red Carpet Red: a true ruby red to bestow Hollywood style wow-factor.
Very Victoria: inspired by Victoria Beckham, a suede, taupe nude.
Charlotte's World of Legendary Parties – Limited Edition – $200.00
Charlotte Says: "Legendary parties are those parties that are so amazing, so wonderful, so transporting, that when you look back on them, you can physically feel a sense of wonder and JOY. Parties are GOOD for the SOUL!"
This calendar is all about gifting yourself or someone else day-by-day during the holiday season. Charlotte always say parties are like 'windows into other worlds,' and every time you open a door, behind the iconic dancing women representing a hall of fame of different party eras, is a best-selling mini beauty treat waiting to be unveiled from Charlotte's multi-award-winning range.
Contains:
Mini Charlotte's Magic Cream
KISSING Lipstick in best-selling Penelope Pink
Mini Wonderglow
Color Chameleon in Black Diamond
NEW Pocket Pout in exclusive shade Jessica Red
Mini Multi-Miracle Glow
Mini Legendary Lashes Mascara
Mini Take it All Off Makeup Remover
Mini Supermodel Body
Eyes to Mesmerize in best-selling Marie Antoinette
Mini Goddess Skin Clay Mask
Lip Lustre in Sweet Stiletto
Magical Mini Brush Set – Limited Edition – $65.00
Charlotte Says: "All wrapped up in a dreamy clutch that's perfect for parties…"
Every woman needs amazing tools to create AMAZING makeup. This is the ultimate kit for contouring, defining, blending, smudging and seducing. These mini versions of Charlotte's best-selling brushes fit inside the clutch, so you can give the gift of perfect makeup everyday, everywhere this holiday!
Contains:
Mini Powder Brush for blusher, powder and sculpting
Mini Blender Brush for blending eye shadow
Mini Smudge Brush to apply eye shadow
Mini Precision Brush for perfecting lips & eyes
Enjoy more photos…