Hello beauties!
Last week I went again on a shopping spree of drugstore products at my nearby Prestige Boutique. I choose Catrice Long Lasting Pencil with a new waterproof formula in No.170 Plumplona Ole as I wanted a darker lip liner than my recently purchased Essence Honey Berry Lip Liner (review, swatches).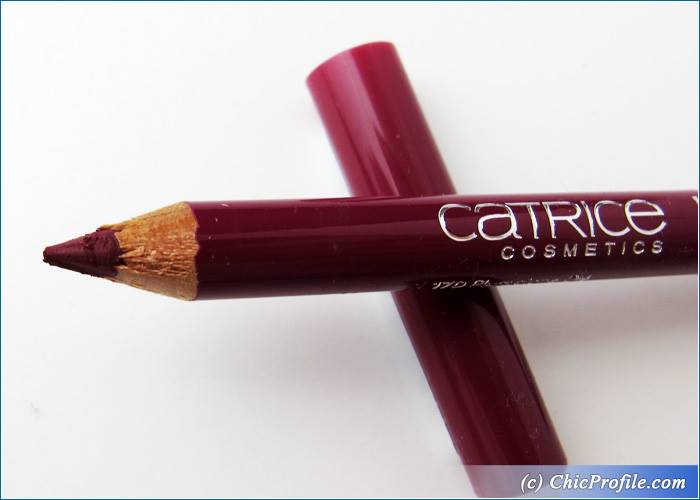 Availability
Romania – Now at local drugstores, Prestige Beautique (blv.Iuliu Maniu nr.59) and online @boutique-produsecosmetice.ro
International – Now online @kosmetik4less.de
Catrice (170) Plumplona Ole Longlasting Lip Pencil Waterproof (9.50 Lei / €1.95 for 0.78 g / 0.027 oz) is a dark wine-red with soft violet undertones and a matte finish.
It has a nice smooth formula, but not very creamy or soft like Essence lip liners. The color is intense, truly pigmented and offers almost a fully opaque coverage. When applied all over the lips you can see how rich the color is and it looks almost opaque. It makes a great primer before applying your lipstick and makes each product even more resistant.
It glides on smoothly and evenly across the lips, delivering an intense, rich color in one stroke. It gives lips a nice soft finish, so I often like to wear it simple as a lip color and fully covered my lips with it.
It doesn't feel dry on the lips, quite comfortable, but don't expect it to be hydrating. It will emphasize lip lines a little bit, but it won't bleed or migrate.
I love to pair it with my newly purchased Estee Lauder True Liar Liquid Lip Potion (review, swatches, photos). It's a great drugstore lip liner, with quite a long lasting formula as it lasts more than 5 hours on my lips even after I had a meal. In the end I felt my lips nor drying nor hydrating.
It's a classic lip pencil which does need the usage of a sharpener to have a pointed tip for a precise application.
Enjoy more photos…