Hello beauties!
Earlier this month Bobbi Brown revealed her upcoming Smokey Nudes Fall 2014 Collection in Japan, at a pre-launch event. Yesterday I gave you a sneak peek of the new 15 Single Eyeshadows with shimmering finishes that will be released at the end of summer and because there were many of you who wanted more info, I invite you to take a quick look at the upcoming Bobbi Brown fall 2014 makeup products. Smokey Nude Collection won't include the new shimmering eyeshadows as they will be released a couple of weeks earlier just like the new compact powder foundation. It's yet to early for official info so I won't be able to post any promo photos, visuals or specific details but you can take a juicy peak and enjoy the photos right after the jump.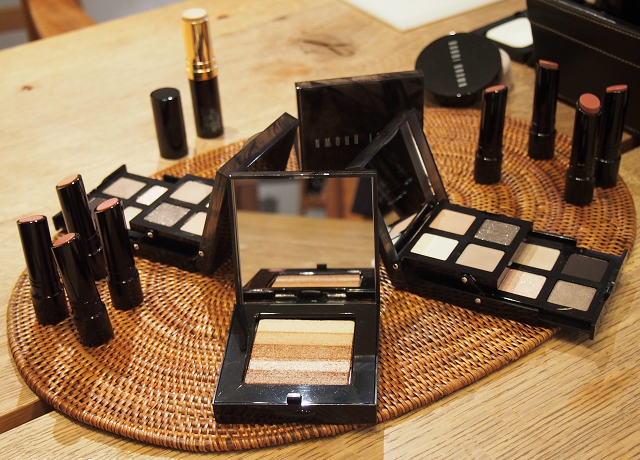 Availability
Japan Launch Date – 19 September 2014
International Launch Date – September 2014
Bobbi Brown Smokey Nudes Fall 2014 Collection
Skin Weightless Powder Foundation SPF 16 – New
As far as I know there will be at least 5 shades available and the texture is described as cashmere-like with a super soft weightless feel on the skin.
Smokey Nudes Eye Palette – New & Limited Edition
This could easily become your favorite fall makeup palette as it contains 8 eyeshadows ranging from natural to bronze and black so you can achieve either a soft or a rich smokey eye look. The eyeshadows have different textures from shimmering to matte so it's a versatile palette which can be used to create natural or intense makeup looks suitable for day or evening.
Shimmer Brick – New & Limited Edition
A new Shimmer Brick featuring 5 shades will be joining this collection.
Creamy Matte Lip Color
There will be 4 new shades available.
This is all the info I can reveal so far about this collection but in late summer, 8 new Blushes will be released (22 August 2014 – Japan Launch Date) and an entire collection of lipsticks, almost 20 shades.
The photos bellow were shared by Izumanix and Ameba…Enjoy!