Hello babes!
How I envy Kate Upton on this visual for the campaign of the new Bobbi Brown Malibu Nudes 2016 Collection. Carefree days at the beach in California, who wouldn't want that?! 🙂 This is exactly where the collection draws its inspiration and presents neutral shades along with a couple of bold and brights. Follow me right after the jump to discover it all.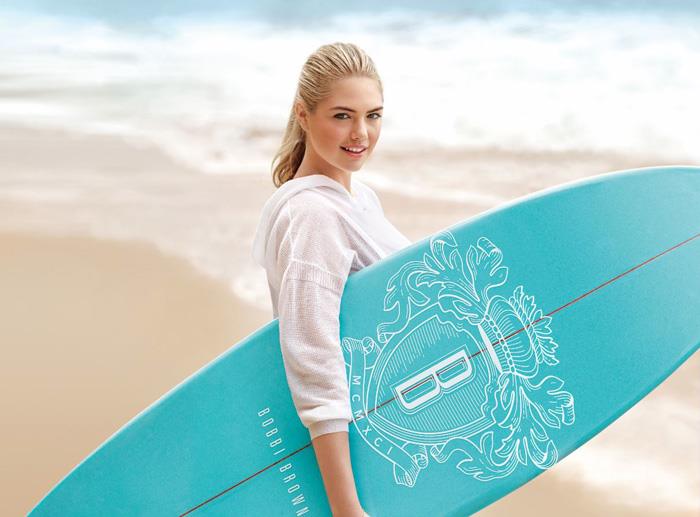 Availability
International Launch Date – March 2016
Belgium Launch Date – March 2016
Switzerland Launch Date – 2 March 2016
Bobbi Brown Malibu Nudes 2016 Collection
Nude on Nude Eye Palette – €51.00
A bring back from the Bobbi Brown archives, the Nude on Nude Eye Palette is a modern classic. Inspired by the natural colors Bobbi sees in women's faces, the all-matte Nude on Nude Eye Palette features four nude shadows, plus a dark brown shade to line and subtly define eyes. Worn on their own or with bold liner, Bobbi's original nudes are indispensable and always flattering.
Shades: Nude, Cement, Wheat, Espresso, Malted
Blush Duos – €43.50
Inspired by cheeks' healthy flush after a day in the sun, Bobbi's Blush Duos feature two shades of blush for a natural and long-lasting wash of color. To achieve Bobbi's signature "just pinched" cheek look, dust the softer shade of blush onto cheeks, and then follow with a pop of brighter blush, applied just on the apples of the cheeks.
Shades:
Pastel Pink / Powder Pink
Sand Pink / Pale Pink
Tawny / Peony
Plum / French Pink
Art Sticks – €27.00
To complement the fresh and relaxed Malibu-nude look, Bobbi has curated a selection of six Art Sticks, ranging from classic neutrals to bold brights. The moisturizing yet long-wearing formula glides effortlessly onto lips with a creamy-matte finish. Line lips with the point of the pencil to achieve natural-looking definition, then hold the flat edge against lips to fill in color.
Shades:
Hot Berry
Electric Coral
Punch
Brown Berry
Rich Nude
Bare
Enjoy more photos…