Hello pretties!
I can no longer deny it! I knew from the moment Urban Decay announced the launch of new Vice Lipsticks & Glide On Lip Pencils that they were going to be my downfall. I mean who can resist to 100 shades of Vice Lipstick?! It's well known that I'm not a huge fan of lipsticks and lip glosses are usually my favorite lip products but let's face it…I'm talking about six different finishes and colors that start from nudes and soft pinks, continuing with the classic shades of reds and burgundy, and finishing with edgy plum, violet, blue and even black. It's really impossible to say you can't find a favorite.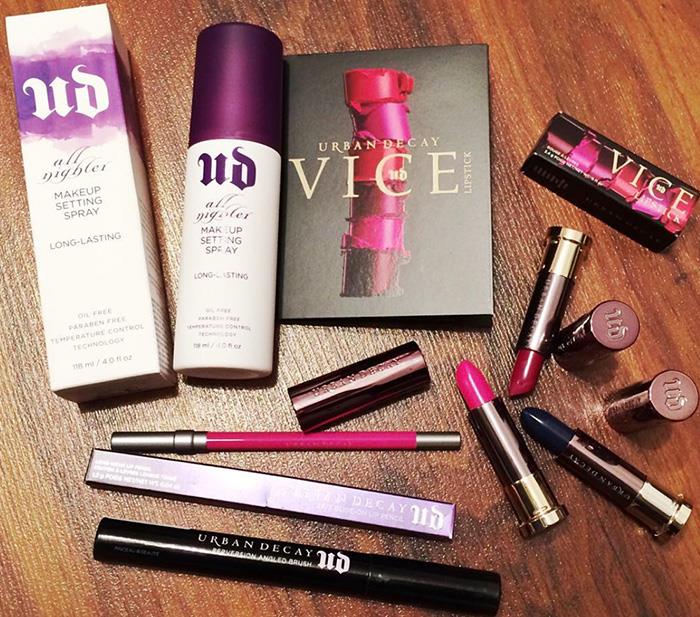 Where to buy:
Romania – Now at Sephora in Vitan, Baneasa, Promenada, Feeria, Afi Palace Cotroceni, Magheru and @sephora.ro
U.S. – Now at Sephora, Nordstrom, Macy's, ULTA, @urbandecay.com, @beauty.com
UK – Now at House of Fraser, John Lewis, Harvey Nichols
When I faced the 100 shades a few weeks ago I also got to swatch some of my favorite colors as I showed you on Instagram. If you are a follower you couldn't have missed the hot pink Urban Decay Crush Vice Lipstick I was wearing on this video which made me instantly fall in love with it. I promised myself I'd get some more shades from this collection like a couple of pinks, nudes and why not even some edgy colors like dark navy blue and black.
Here are swatches of the colors I had in mind at the time and today some of them are joining my Urban Decay Vice collection.
I had Crush and Heroine on my wishlist but Urban Decay Romania made me a surprise and sent them to me for consideration…so I'll be shopping for new shades next week and I can't wait to show them to you. I was still thinking of some nudes but this time I want something with a cream finish and a bit of shine and who knows perhaps a gorgeous purple to be in competition with my Urban Decay Pandemonium Vice Lipstick (review, swatches). Reds are not really my thing, but I can't deny that anyone should have at least one classic red shade with a matte finish in her collection and here's mine…Urban Decay 714 Vice Lipstick (review, swatches).
I'll be back soon with reviews of these products and I promise to show you what I get next time I'll visit UD counters.
Products were provided by Urban Decay Romania